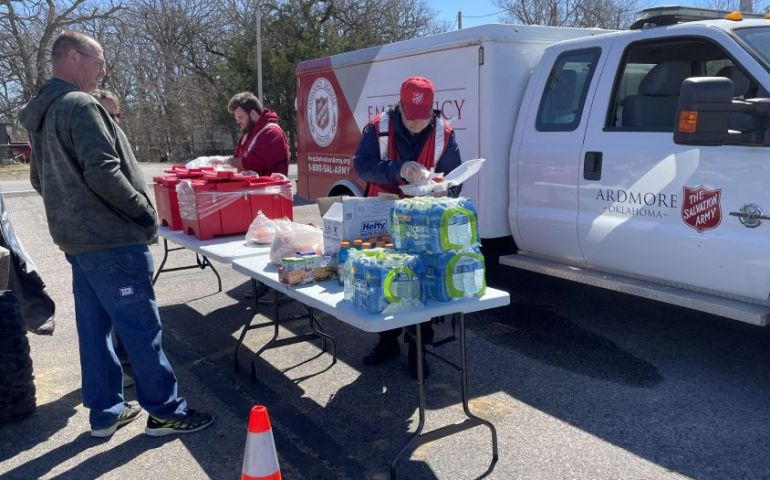 March 25, 2022 (Ardmore, Oklahoma) Friendships and partnerships in the community are very important to The Salvation Army of Ardmore. They understand how important they are on an everyday basis to serve those in need. And, when disaster strikes, they become even more valuable. One of those partnerships is with the H20Life.Church.
"When the Kingston tornado happened, we just called and asked what was needed.  It is best for us to work through the Army in disasters because they are on the ground and understand what the needs are.  It was a privilege to serve with them. One of our core values is that we are about the capitol "C" church. We are honored to serve together and make the body of Christ known in Ardmore, Oklahoma," says Dama McKennell, co-pastor at H20Life.Church in Ardmore. Sixteen chicken and rice casseroles with desserts made many storm survivors as well as emergency responders very happy.
The church began partnering with The Salvation Army over eight years ago when they began working on hygiene bags for homeless shelter residents. Now, they always look at ways in which they can incorporate The Salvation Army into any of their events. Through Wednesday, with the assistance of H20, The Salvation Army had served 332 meals, 150 drinks, and 335 snacks in Marshall County Oklahoma since Tuesday.
Please continue to pray for all of those affected by the storms, especially those whose homes were severely damaged or lost in the tornadoes. The Salvation Army is working closely with emergency management officials at the local and state levels, as well as other partner agencies to ascertain what further needs may arise in the aftermath of the storms.
Financial donations may be made at www.helpsalvationarmy.org or by calling 1-800-SAL-ARMY to support response efforts. For the latest Salvation Army disaster information, please go to disaster.salvationarmyusa.org and watch for regular updates at www.facebook.org/SalArmyArdmore for additional information.