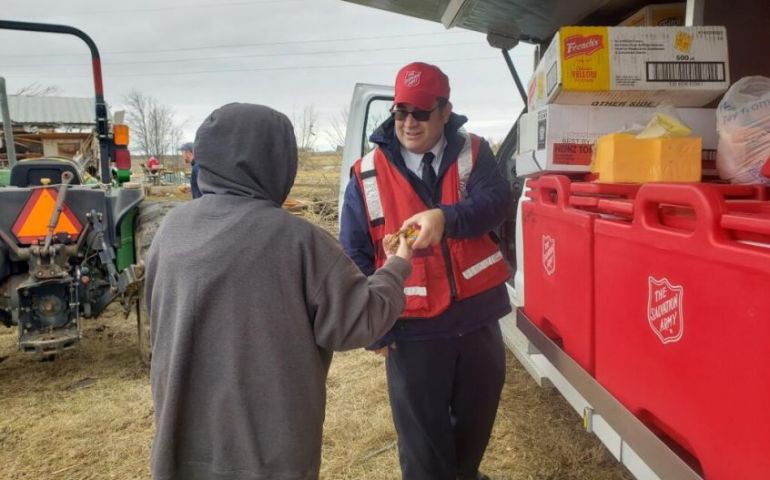 March 22, 2022 (Ardmore, OK) On Monday evening, severe storms hit Southern Oklahoma and Texas which included large hail, high winds, heavy rain, flash flooding and tornadoes.   In Oklahoma, the town of Kingston was the most impacted area with widespread downed trees, damage to homes and businesses and numerous power outages to commercial and residential areas.
On Tuesday, The Salvation Army deployed their Mobile Feeding Unit to provide food, hydration, and emotional and spiritual care to those affected by the storms.  The canteen is prepared to feed at least 100 meals at lunch and will serve dinner if needed.
Captain Alan Grimes, Ardmore Corps Officer, states, "It is an honor to serve this hard-hit community.  The tornado created a lot of damage and we will provide as much comfort as we can to those affected for as long as we are needed."
Please continue to pray for all of those affected by the storms, especially those whose homes were severely damaged.   The Salvation Army is working closely with emergency management officials at the local and state levels, as well as other partner agencies to ascertain what further needs may arise in the aftermath of the storms.
Financial donations may be made at www.helpsalvationarmy.org or by calling 1-800-SAL-ARMY to support response efforts.  For the latest Salvation Army disaster information, please go to disaster.salvationarmyusa.org and watch for regular updates at www.facebook.com/SalArmyArdmore for additional information.