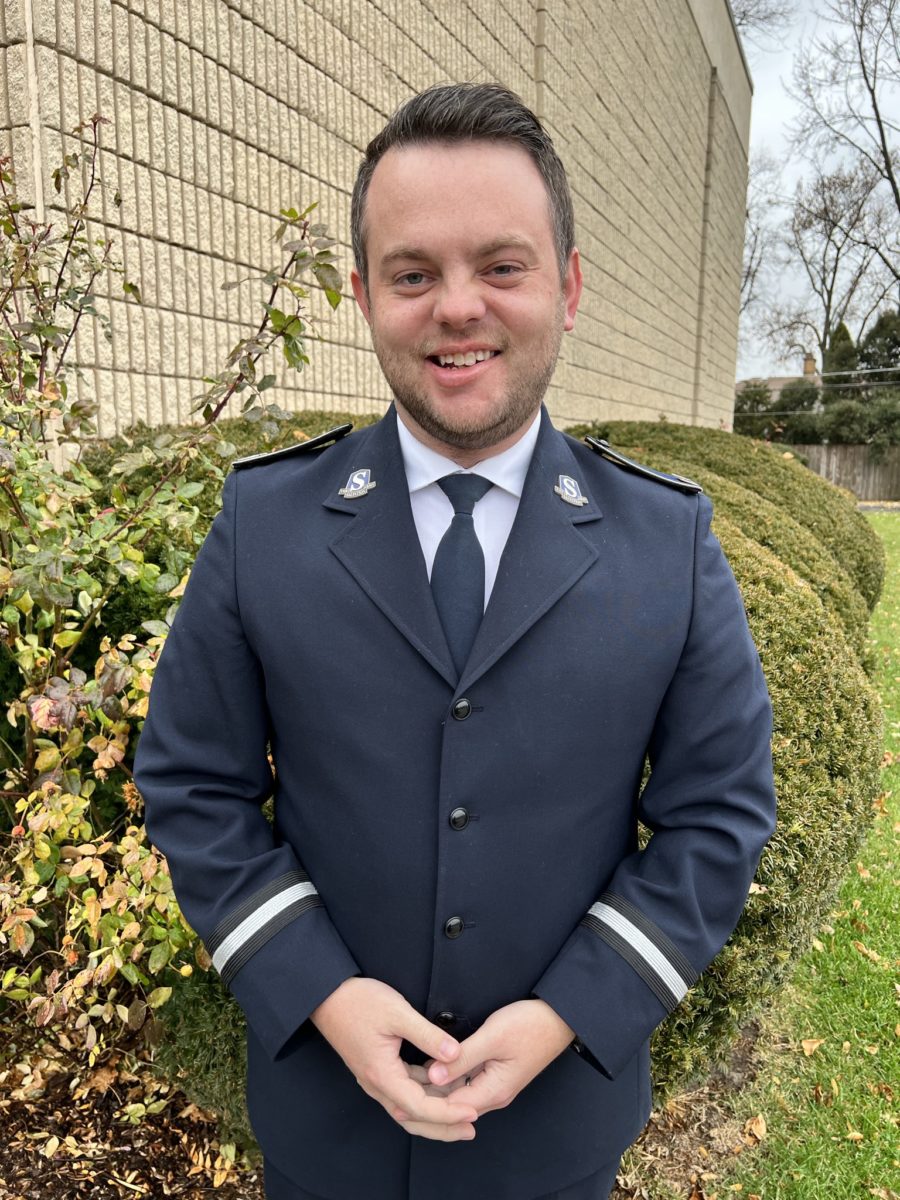 This month Brett Tolcher will assume the role of territorial music and creative arts ministries secretary.
A lifelong Salvationist in the Central Territory, Brett is known as a gifted musician, playing both trombone and piano, and is currently the bandmaster of the Norridge Citadel, Ill., Corps Band.
"We firmly believe that he is God's person for this role," said Territorial Commander Commissioner Brad Bailey. "Brett's walk with the Lord is real and vibrant, his love of people and concern for their spiritual life is infectious and, along with his wife Kelly, they demonstrate their commitment to our mission in many practical and sacrificial ways."
Brett earned a Bachelor of Music degree in Music Performance from DePaul University and in May will
complete a Master's in Business Administration also from DePaul. He has worked in development (fundraising) for DePaul and the Ann & Robert H. Lurie Children's Hospital in Chicago.
Having served in both the territorial music and trade departments, Brett brings a wealth of knowledge about the function of the territorial music and creative arts ministries department, is well versed in the divisional consultation process and familiar with territorial initiatives. Having updated the department's studio when he was on staff, Brett also has a first-hand knowledge of the process for territorial recording and publication projects, particularly the Hallelujah Choruses, and the Sounds of the Seasons projects.
"Brett's responsibilities will include leadership of the Chicago Staff Band (CSB). His 12 years as a member of the CSB, including as an outstanding soloist and the band's manager, as well as his experience as Norridge bandmaster, will aid this transition," said Harold Burgmayer who is retiring after being the territorial music and creative arts ministries secretary for the last six years.
"The Salvation Army was created to be outside the typical church walls and perhaps that is where we are needed most today," said Brett. "In my new role, I will have an open heart and open ears. I love The Salvation Army tradition but also expect God to have some new ways to use us. To make things happen, it will take a village—and boy have we got one!"
The territory conducted a rigorous three-month search process which attracted applications from candidates throughout the nation. The committee, which vetted candidates and made hiring recommendations to the territorial commander, represented officers, soldiers and divisional music directors and was led by Territorial Program Secretary Lt. Colonel Jonathan Rich.