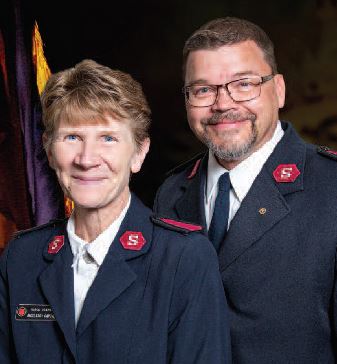 by A/Captain Mika Roinila
As a college professor for more than 20 years, I never imagined I'd change careers. I'd earned a PhD in cultural geography from the University of Saskatchewan followed by teaching posts at four colleges and universities. In a world of "publish or perish," I'd written research papers dealing with the Finnish experience in Canada and the U.S., published four books and given conference presentations in North America and Europe. As coordinator of the International Baccalaureate Program with the South Bend Community School Corporation, I was content with my life and our plans for retirement, but God had different ideas.
At the end of a territorial worship seminar in January 2017 while reflecting on my expectations, "I am here to learn how to be on God's team," I was convicted to become an officer. God had called my wife, Grace, into ministry years earlier; she was just waiting for me.
Upon our return home to Mishawaka, Ind., we undertook the process to become officers with the help of Majors Monty and Angie Wandling at the South Bend Ray and Joan Kroc Corps Community Center. I resigned from my job, and that September we became auxiliary captains.
We were sent to the Quincy, Ill., Ray and Joan Kroc Corps Community Center as congregational life officers under the tutelage of Majors Andy and Cheryl Miller. It was like coming home since Grace and I met at the International Youth Congress in 1985 held at Western Illinois University in Macomb just a short distance away. We were blessed to work with wonderful staff and grew close to congregational members. Highlights included starting the "Golden Kettle" competition among service clubs in Hannibal, Mo., establishing "Helping Hands" ministry by the men's fellowship, and conducting historical research and work on the Army's 125th anniversary in Quincy.
In July 2019 we were appointed as corps officers of the Grand Rapids Fulton Heights, Mich., Corps. We are blessed it is home to many retired officers from whom we continually learn. While our children's and seniors' programs have been affected by COVID-19, we continue to build bridges in the community. Our worship services have attracted beneficiaries from the Adult Rehabilitation Center, residents of the Turning Point program, and men from a halfway house. We have done more through livestreaming Sunday meetings, Bible studies and activities that reach people in our community and beyond.
We are thankful that God calls people into ministry at all stages of life. We desire to be "Extenders of the Gospel," a moniker adopted several years ago by us distance learners who were entering a second career in The Salvation Army. Actually, in the Army we are all extenders of the Gospel. May we never lose sight of that.