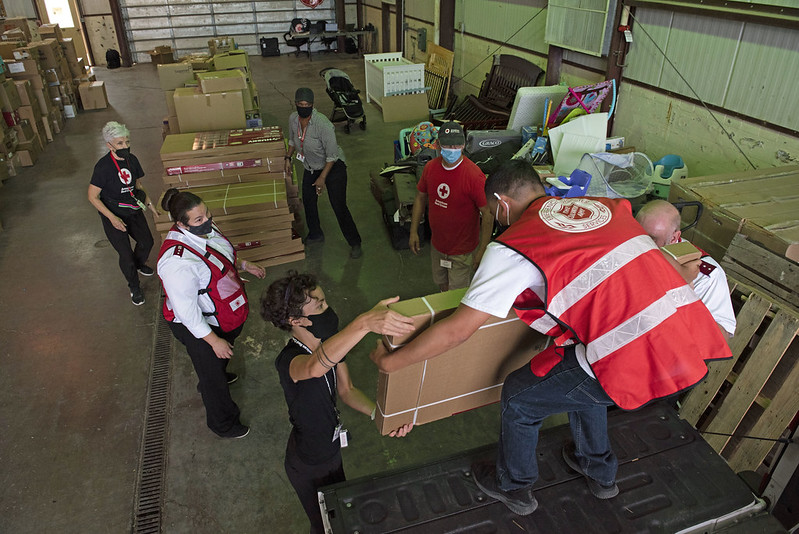 THE Salvation Army's Southwest Division Emergency Disaster Services (EDS) in the USA Western Territory activated an Incident Management Team at Holloman Air Force Base (HAFB) near Alamogordo, New Mexico, to provide donations management of nearly 100 tons of items that had been given to support the US military's 'Operation Allies Welcome'.
'We had an incredible amount of stock that I haven't seen collected that quickly in response to an emergency, so it was just an outpouring of donations and support for those who need it,' said Salvation Army Captain Nikki Woollin, Incident Commander of the donation warehouse effort.
The Department of Defense, through US Northern Command, and in support of the Department of State and Department of Homeland Security, is providing transportation, temporary housing, medical screening and general support for at least 50,000 Afghan evacuees at various secure locations. The Salvation Army role in the ongoing response began in September and took place over a period of four weeks.
The Salvation Army's EDS collaborated with Holloman Spouses Organization and the HAFB Military Joint Task Force to organise warehousing operations for donations and resources. Afghan evacuees arriving on the base were provided with individual bags containing clean clothing, shoes, hygiene items and more.
'Our goal was to make sure everyone has at least one extra set of clothes,' added Captain Woollin. 'There was just an overwhelming response of gratitude from the evacuees for what was being given.'
The Salvation Army also worked with Islamic Relief USA, a non-profit humanitarian and advocacy organisation, to have 1,500 prayer rugs shipped to the airbase. The evacuees were overwhelmingly Muslims, and the prayer rugs were important in providing opportunity to carry out their five daily prayers.
Afghan evacuees served by The Salvation Army's donation warehouse efforts were provided with:
32,802 clothing items
11,853 infant supplies
3,755 comfort/hygiene kits
2,145 toys for children
890 blankets
The Salvation Army has handed over management of the donation warehouse to Homeland Security, but Captain Woollin reflected: 'It was a great opportunity and very unique, and I'm really glad we were able to come and help.'
Afghan evacuees have also been supported by The Salvation Army in several other locations. Salvation Army centres across the USA collected clothes and other essential items for newly arrived refugees and, in the UK, children of refugee families arriving at London Heathrow Airport were provided with toys sourced from Staines Corps (church) by airport chaplains Majors Christine and Stephen Perkins. Northampton Corps set up a distribution hub for 155 Afghan refugees who had been settled in the area and a variety of other corps in the UK are assisting evacuees who have been housed locally.
New Mexico report by Scott Johnson
Other information gathered from various sources by IHQ Communications