Chicago Staff Band ensemble supports Nigerian Centenary Congress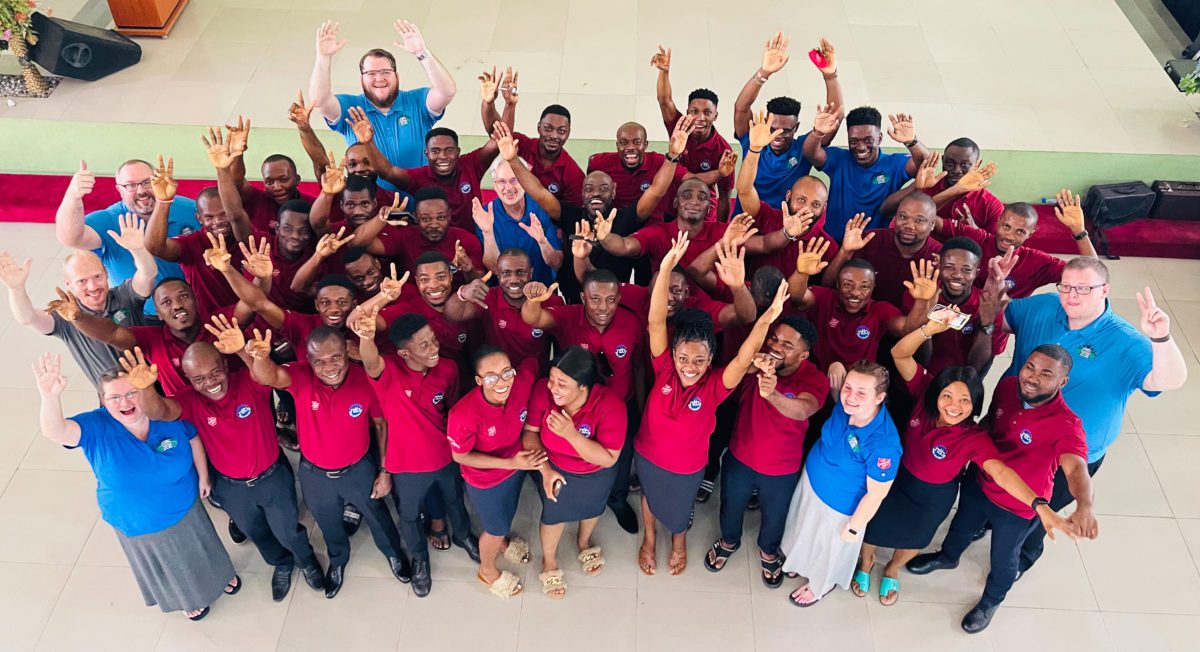 by Bandmaster Harold Burgmayer
In the face of the ongoing pandemic, prevailing travel restrictions, escalating costs and financial restraints, it seemed impossible that a Chicago Staff Band (CSB) ensemble could travel across the world for the Nigeria Territory's Centenary Congress, but God's glory shines brightest in the midst of the seemingly impossible.
With resourceful and resilient support of leaders from both the USA Central and Nigeria territories, the CSB ensemble traveled to Africa— only the second time a staff band has visited this continent. The ensemble included: Marc Smith (Eb soprano and Bb cornet); Isaac Leka (flugelhorn and cornet); Rachel Jordan (cornet); Laura Aukes (horn); Abraham Leka (baritone); Tom Hanton (trombone); Nathan Hellstrom (euphonium); Jon Weller (Eb Bass); Jude St-Aime (Bb Bass); Sam Leka (drums); supported by Miriam Leka.
Prelude to Congress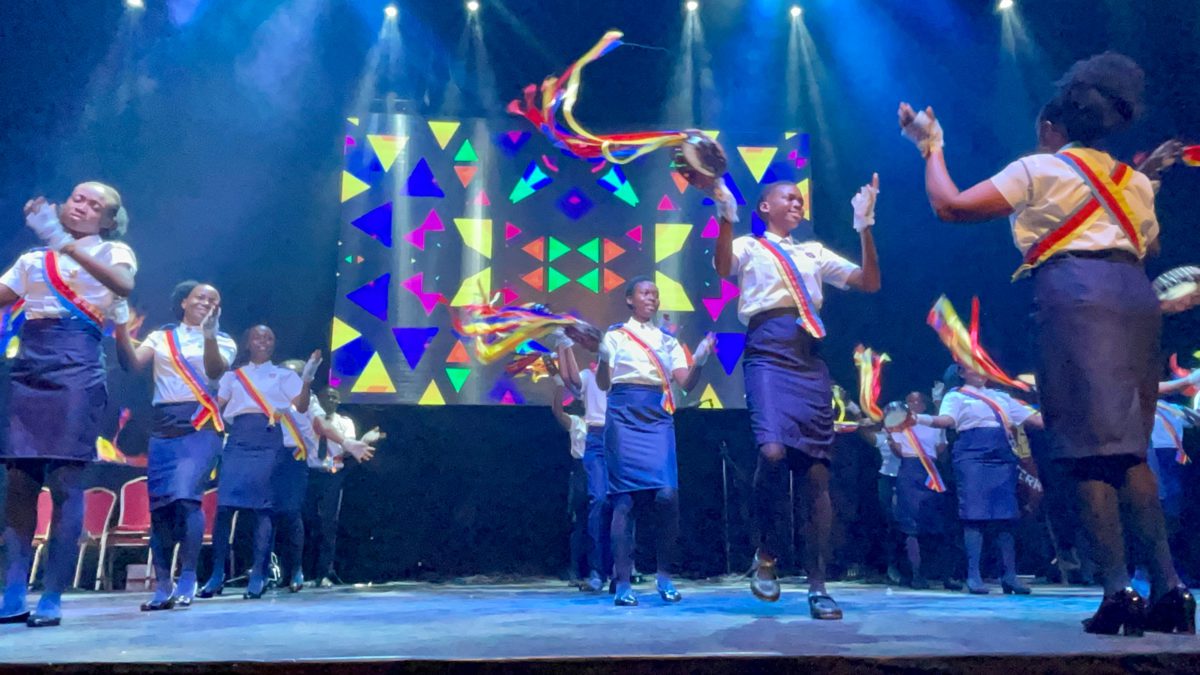 Following a seven-day quarantine and COVID-19 testing, we were delighted to engage in two days of rehearsal with the Nigeria Territorial Band (NTB). Leading sectionals presented marvelous opportunities for interaction and coaching and resulted in improved teamwork and budding friendships; Nigerians sought us out and connections felt warm and personal. Each day we witnessed marked improvement in the quality of sound, blend and dynamic range. Nigerian band members play "flat out" when they improvise choruses, particularly on the march, seemingly without tiring. As the week went by, the group shifted to a very pleasing sound at a soft dynamic when playing hymn tunes.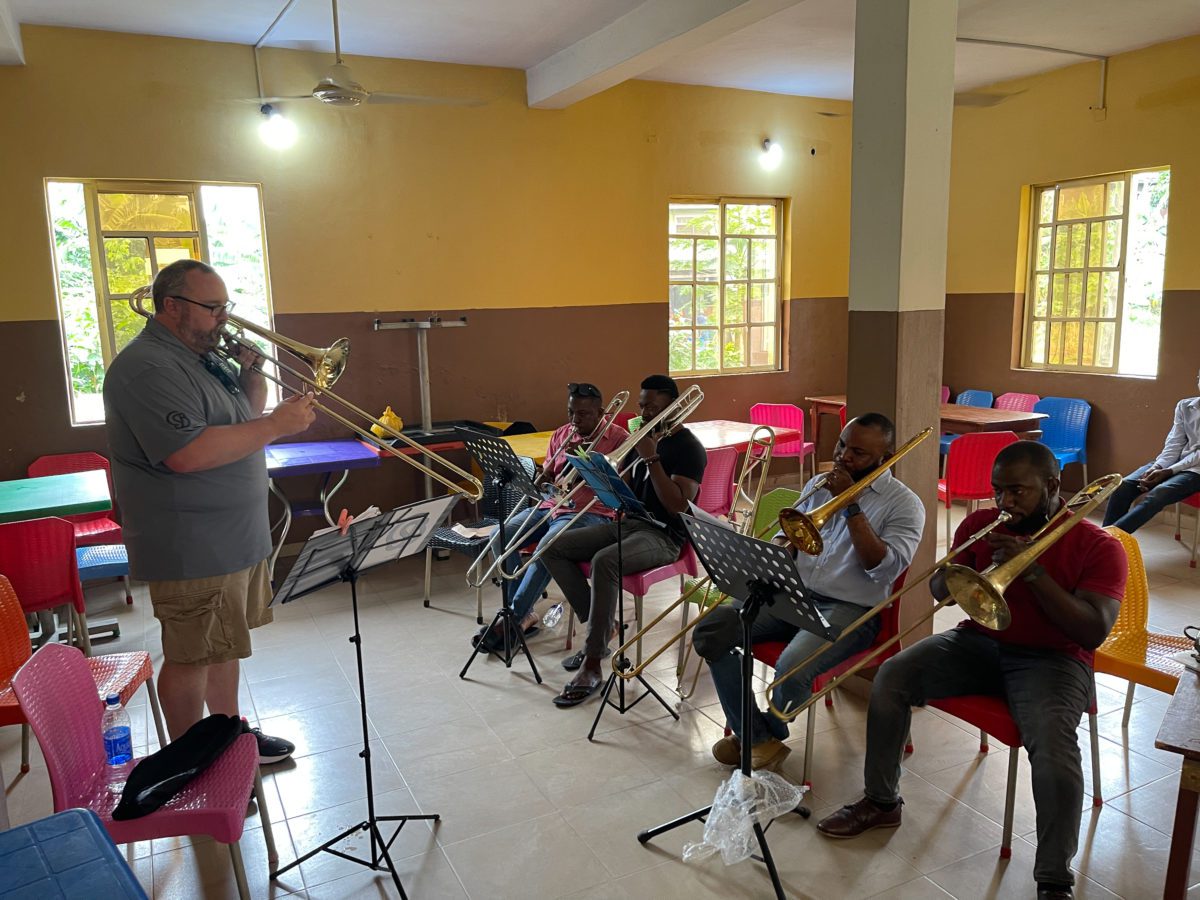 A welcome meeting was held at the new Igbobi Corps. In response to cordial words from Congress planners and territorial leaders and numbers by the Nigeria Territorial Band and Songsters (NTBS), the CSB honored retired music leaders and territorial leaders including our hosts Territorial Music Coordinator James Abakada and Territorial Bandmaster Joe Akpan with cards and CDs. Nigerian Territorial Songsters (NTS) appreciably received CSB pins, while NTB members gathered with their CSB section leaders for prayer. Each Nigerian bandsman received a gift package with a CSB CD, pin and socks, which they proudly wore during Congress, and a hand-written note from the CSB member who plays the corresponding part. The CSB donated a complete set of tune books, music stands and the 10 instruments (including a drum set) used on the trip.
Wednesday was spent traveling and preparing for the evening concert at Terra Kulture on Victoria Island in Lagos. The program featured the NTB, supported by the CSB ensemble, playing Celebration Overture (Cordner), Where Duty Calls (Jakeway), They Shall Come from the East (Larsson) and the William Tell Overture (Rossini). We delighted in the NTS's robust singing of "God, we will give you glory" (Redhead) and a demanding arrangement of a traditional Yoruba song. The Lagos Divisional Timbrelists provided two drills, giving fluid movement to Carindale 2010 (Creamer) and Norwich Citadel (Drury). Dance team Boundless Expressions combined recorded spoken word and song (which included a musical quote of the Hallelujah Choruses setting of Storm the Forts of Darkness) into a collage of traditional and hip-hop dance. Topping it off we heard an astounding rendition of Jesu, Joy of Man's Desiring and the William Tell Overture performed on a solo harmonica.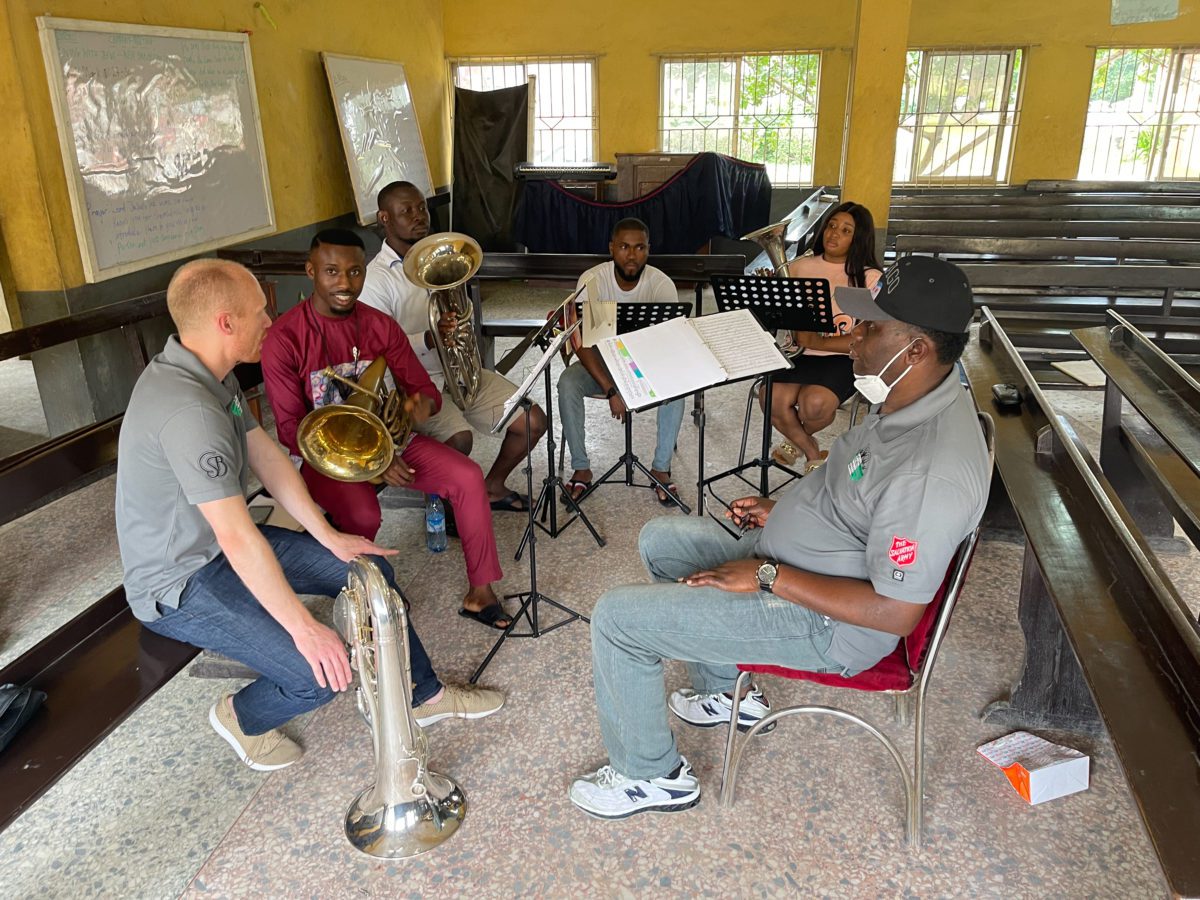 The CSB performed an exciting mix of upbeat selections and touching ethnic expressions including the Cuban Malaguena (Lecuona) and the big band standard Gospel John (Steinberg) featuring Marc Smith on cornet and Tom Hanton on trombone. Returning home to Lagos after more than a decade living in the U.S., Isaac Leka was featured with a relaxed jazz tone on flugelhorn with So Glad (Himes). With the help of Isaac's dad, Abraham, I prepared a "surprise" lively arrangement of six Nigerian Christian songs, titled Songs of Naija, which met with thunderous applause and resulted in two encores.
March of Witness
Friday morning we joined hundreds of uniformed Salvationists headed into a soccer stadium. Surprisingly, everyone wore blue uniforms which are typically worn during the rainy season. A parade was organized with a color guard of Salvation Army and national flags, followed by the NTBS, cadets and then divisional delegations. Each division passed with a flagbearer, divisional leaders, those in cultural outfits followed by smartly dressed soldiers. Marching in rows of two because of COVID-19 restrictions, the lineup seemed endless, reaching nearly twice the length of the track. Nigerians enjoy marching and do so effortlessly, using a unique heel-toe movement with a lift and aggressively swinging arm motion that looks very sharp.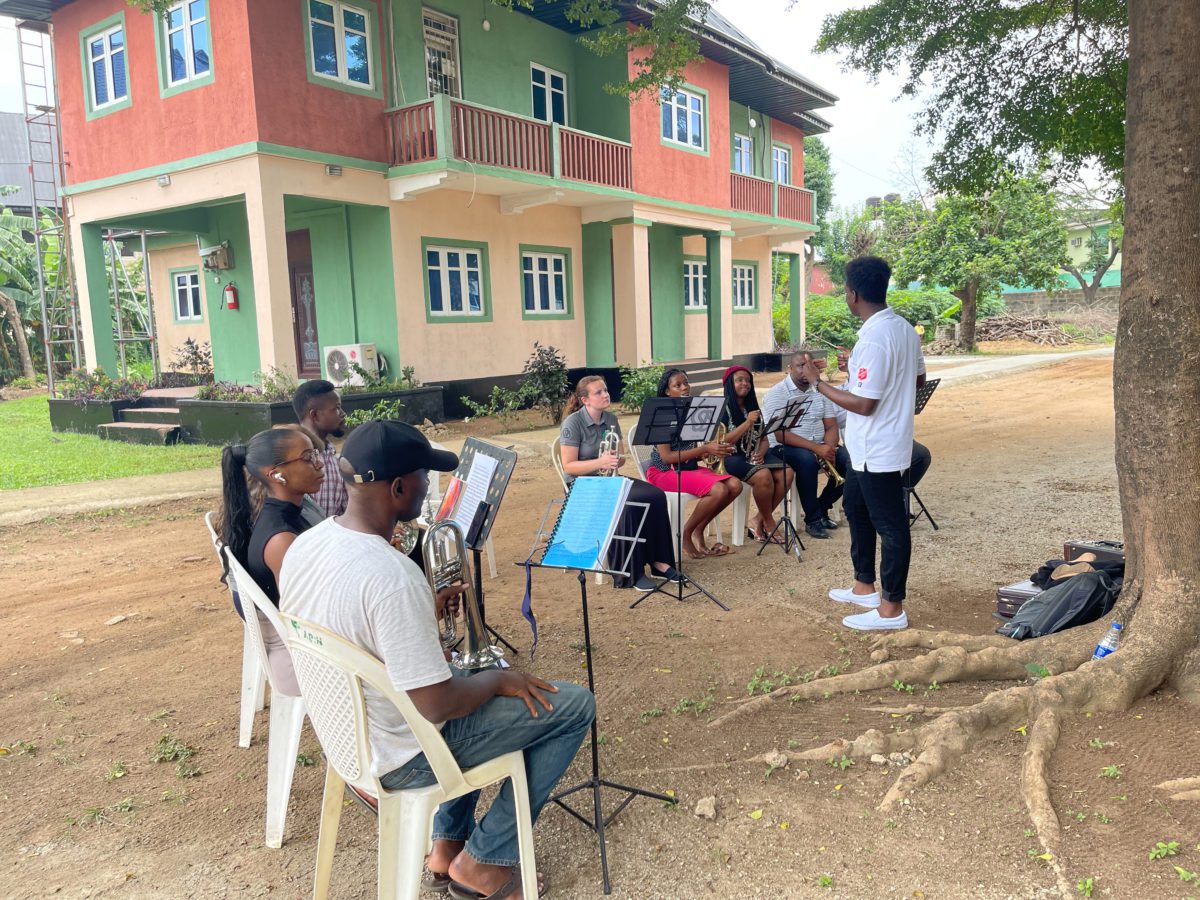 Without tune books the bands played songs like "Onward Christian Soldiers," "He's got the whole world in His hands," and Nigerian Christian songs. The tunes happened in quick succession, building on one another, usually with cornets commencing a new song harmonizing in triads and the lower brass responding with the same tune in their octave, occasionally with the full band coming together. It was impressive to hear the flourishes and harmonies, with excellent bass lines. The percussion battery was unyielding, keeping a strong, steady pace, shifting easily between marching cadences and more traditional African beats.
The march didn't end in the stadium as we squeezed our way out of the exits and along the road. The extravaganza continued into an arena as we played and proceeded to our seats on stage. The crowd clapped, sang and danced along. Cultural expressions ensued as the meeting moved into full swing. Supported by the CSB, the NTB premiered a march by Martyn Thomas written for the occasion called Nigeria Centenary Congress which included the national anthem and various Nigerian references.
The afternoon festival featured multitalented Nigerian Salvationist youth in a full range of expressions. They have an amazing grasp on gospel music, engaging the congregation in energetic call-and-response exchanges.
Centenary Wrapper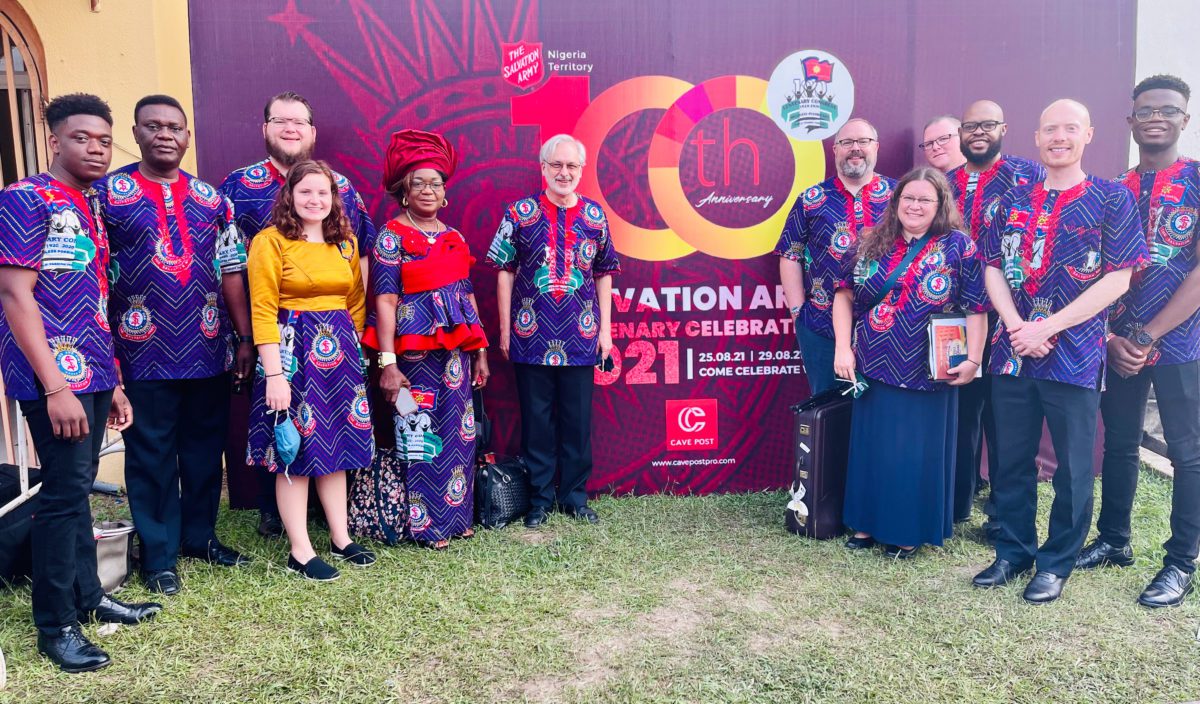 On Saturday the CSB headed to the arena dressed in the Nigerians' traditional "centenary" shirt with ladies in matching skirts custom made for each member. We were greeted by a sea of similarly dressed Salvationists wearing handsewn outfits using the purple "centenary wrapper" fabric with its embedded crest and centenary logo but modified in their own indigenous fashion. After a morning prayer session, men's and women's rallies were held.
In the afternoon, the CSB shared an impromptu open-air concert featuring our full repertoire. The crowd encircled us five and six rows deep, with a wall of cameras recording each piece. The final meeting that day was a youth concert featuring a comedian, dancers, a large Singing Company, the NTS and other cultural presentations. The NTB shared the spirited Celebration Overture (Cordner) and encouraged the crowd to sing along on "You Are Good" (Burgmayer). Two unique features were a beauty pageant competition with couples being judged in traditional dress and the launching of the centenary album, Boundless Possibilities.
Final Day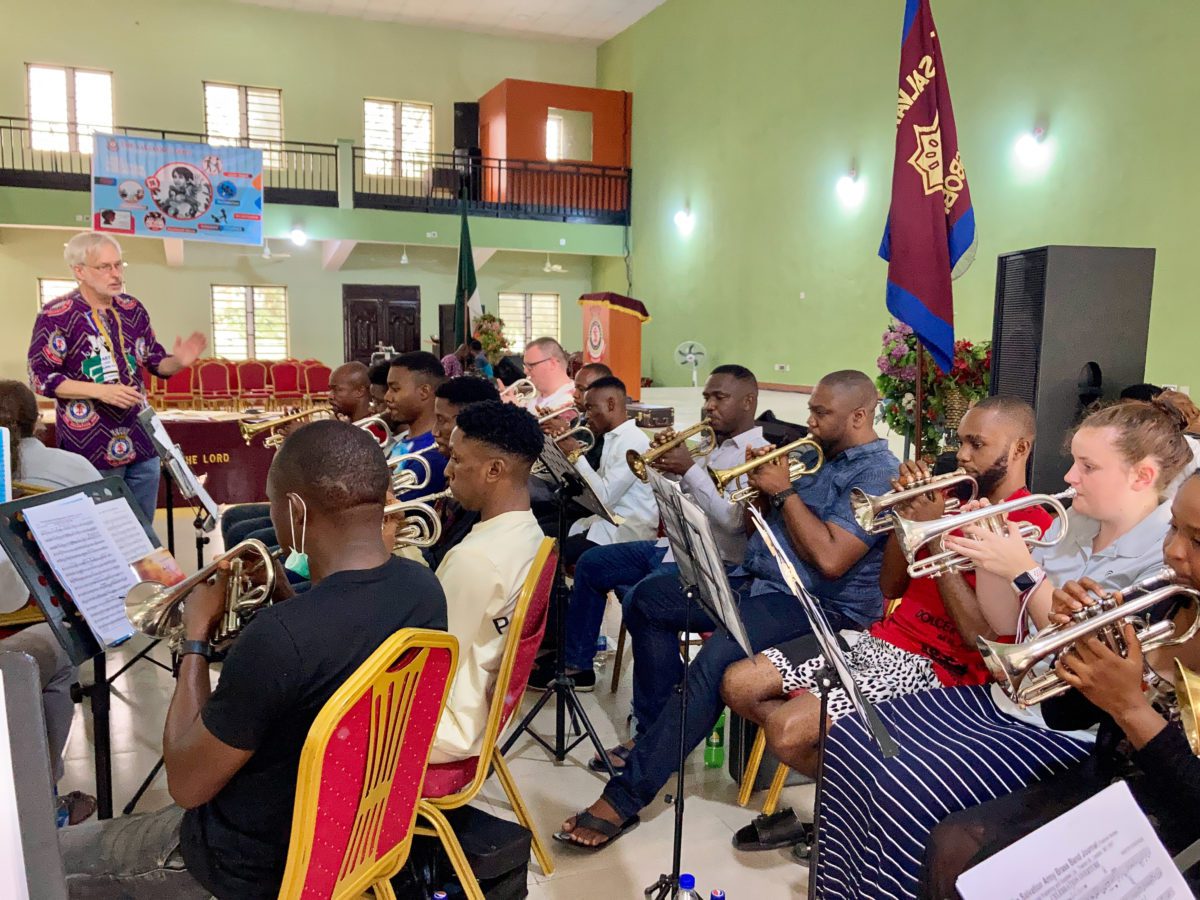 The NTBS and CSB were dressed in festival reds, while the remaining 1,500 Salvationists were smartly dressed in white uniforms. The NTB supported a lively procession of leaders and cadets, heartfelt singing and the commissioning and ordination of the "Messengers of Grace" session.
Highlights included "They shall come from the East" (Larsson) combining the NTBS with a timbrel dance, 100 soldiers being enrolled, and explosive singing by the full congregation of "How great thou art" during an altar call with people on their knees four deep across the front of the stage.
While Salvationists carry on many similar traditions and practices worldwide, our team learned to celebrate the differences that enhance the worship and fellowship of our global Army with great joy!