by Clara Novy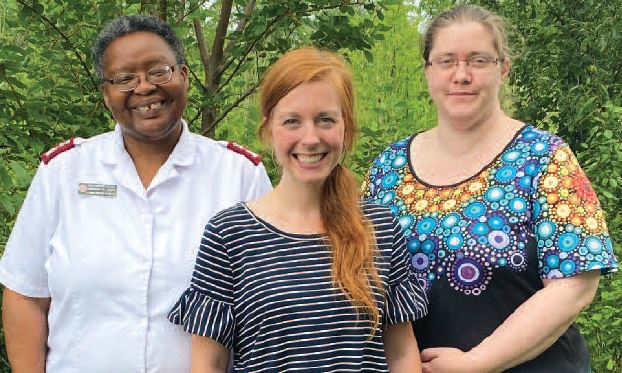 Postponed by the challenges of COVID-19, plans for the Center for Social Justice and Urban Mission (CSJUM) are back on track, with construction on the building located at 736 W. Addison St. in Chicago expected to be completed by May 2023.
Major Katherine Clausell, territorial secretary for social justice and urban mission, is partnering with departments at territorial headquarters to create a hub that will educate, equip and engage the territory and the public in the fight against injustice.
"After a year of delays, I am elated that the building that will house the Center for Social Justice and Urban Mission has been reimagined to not only meet the mission of The Salvation Army but to add value to the Lakeview East/Northalsted neighborhood," said Major Katherine.
The building's design will provide an environmentally friendly, multipurpose location for offices, meetings, workshops and CSJUM initiatives. It also will contain residences for CSJUM appointed officers, interns and personnel attending Salvation Army events, such as an intensive training called Justice Week.
An interpretive space is planned to educate both Salvationists and the public about current and emerging topics related to social justice and urban mission through portable immersive experiences that can be used at events or loaned to officers seeking to highlight specific issues of justice.
To assist in bringing the CSJUM to fruition, two new staff members have joined the team. Elyse Dobney, formerly program manager of the Stop-It Initiative against human trafficking in the Metropolitan Division, has come on board as program director, and I have transitioned from working at the College for Officer Training to serving as CSJUM administrative assistant.
"I am pleased to have Elyse and Clara as part of my team," said Major Katherine. "I am confident that they will bring both drive and passion to the mission and purpose for which the CSJUM has been established."
Until the physical building is completed, a website has been developed to function as a virtual front door to the CSJUM, serving to keep the territory up-to-date on initiatives and endeavors and to enable the CSJUM to connect with the territory to educate, equip and engage Salvationists and members of the public.
For more information, visit sajusticecentral.org