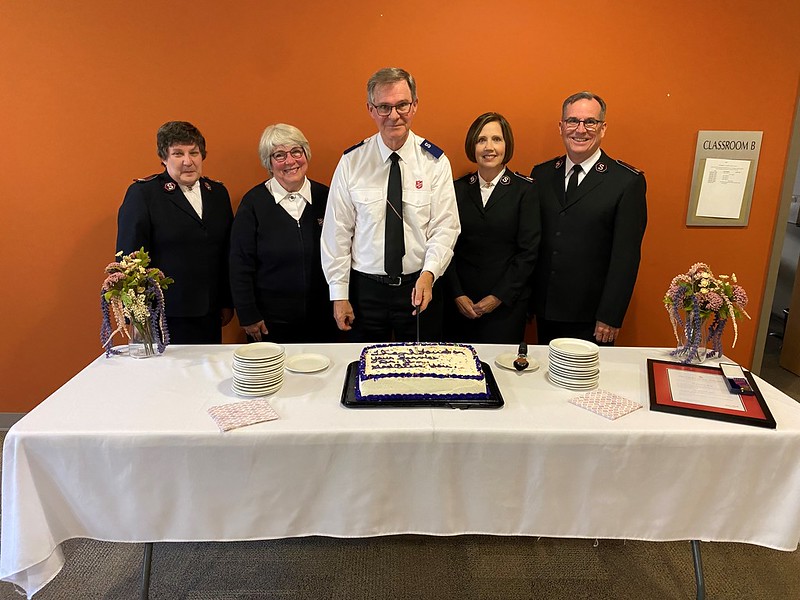 DOCTOR James Read, a Canadian Salvationist and academic who has given decades of distinguished service to The Salvation Army, has been awarded the movement's highest honour, the Order of the Founder. Acting on behalf of General Brian Peddle, Commissioner Floyd Tidd (Territorial Commander, Canada and Bermuda Territory) admitted Dr Read to the order in a ceremony at the College for Officer Training in Winnipeg, Canada.
The award's citation explained that the doctor was being admitted to the Order of the Founder in recognition of 'his outstanding contribution to education, leadership and teaching in relation to theology and moral and ethical issues in the international Salvation Army'.
Dr Read completed his doctoral studies in philosophy at UCLA (University of California, Los Angeles) in the USA, taught at public universities in Tennessee and Ohio, and eventually returned to Canada in 1982 to help establish The Salvation Army's Catherine Booth Bible College, now Booth University College. In 1994, he founded The Salvation Army Ethics Centre, from where he is now retiring as executive director, and in 2008 he became a senior policy analyst for the newly formed International Social Justice Commission. He also served as chair of the International Moral and Social Issues Council, which is based at International Headquarters.
'Christians may not have all the answers to all the dilemmas today, but disengagement is not an option for us,' said Commissioner Tidd as he admitted Dr Read to the Order of the Founder. 'We thank you for that reminder.'
Alongside his professional work, Dr Read – with his wife, Laurie – is active at his home corps (church), Heritage Park Temple in Winnipeg, and served for many years as corps sergeant-major.
In a letter to Dr Read, the General wrote: 'Your service in various aspects through the years has been demonstrative of whole-life discipleship as you have combined your faith and academic work. You have helped The Salvation Army work out what it means to act justly, love mercy and walk humbly.'
Accepting the honour with 'enormous gratitude', Dr Read shared the apostle Paul's words from Philippians 4:8: 'Finally, brothers and sisters, whatever is true, whatever is noble, whatever is right, whatever is pure, whatever is lovely, whatever is admirable – if anything is excellent or praiseworthy – think about such things.'
Reflecting on the importance of the word think in that passage, Dr Read described The Salvation Army at its best as 'reflective practitioners'. He added: 'We are active, we are "roll up the sleeves", we are in there, we are engaged. But it's an engagement that's backed by a deep thinking and analysis, an appreciation of what is true.'
The Order of the Founder was instituted by General Bramwell Booth in 1917 to mark 'outstanding service rendered by officers and soldiers such as would in spirit or achievement have been specially commended by the Founder [General William Booth].'
Report by Kristin Ostensen