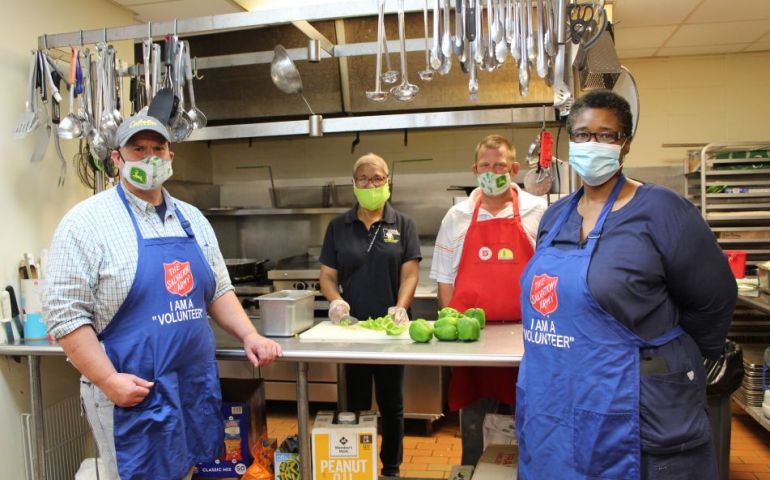 Gonzales, Louisiana (September 23, 2021) The Salvation Army of Baton Rouge, Louisiana has been busy making extra meals since shortly after Hurricane Ida made landfall.  This is in addition to the three meals a day for The Salvation Army's Corps Salvage Rehabilitation Center (CSRC) and the two meals a day for the Hope Center.
In the first few days, approximately 2,000 meals a day were being prepared in the small kitchen of the Corps.  Not only were they providing food for the community, but they were also preparing meals for the volunteers, employees, and officers being deployed to Gonzales, Louisiana to serve survivors of Hurricane Ida.
Jason Bryant, a resident of the CSRC, and Charles (Chuck) Daniels, also a resident of the CSRC, emphasize, "We have serving hearts and people come first."  Serena Gotch, Food Service Supervisor, has worked for The Salvation Army for two years.  She explains that Jason and Chuck meet every morning for a devotion and prayer before they begin cooking.  Serena states, "The food is cooked and served with love."
When the additional meals were needed, the Corps was low on food.  They go on to share the donations came in, such as bacon, chicken, beef, and seasonings, just in the nick of time to help make all of the meals possible.  They call them God's groceries.  All together they say God has provided everything needed to continue to serve.
The Baton Rouge group continues to provide dinner for the group of volunteers and staff who are under the Incident Command Staff in Gonzales.   The dinners have been especially delicious and appreciated by all.
Serena has a special connection with her position.  During Hurricane Katrina, she and her family were served by The Salvation Army. She said at that time, she wanted to go to work for The Salvation Army someday so she could give back.  Today she gives back by managing and organizing those who rely on The Salvation Army to get back on their feet.  She said the CSRC is her family and her position is an answered prayer.