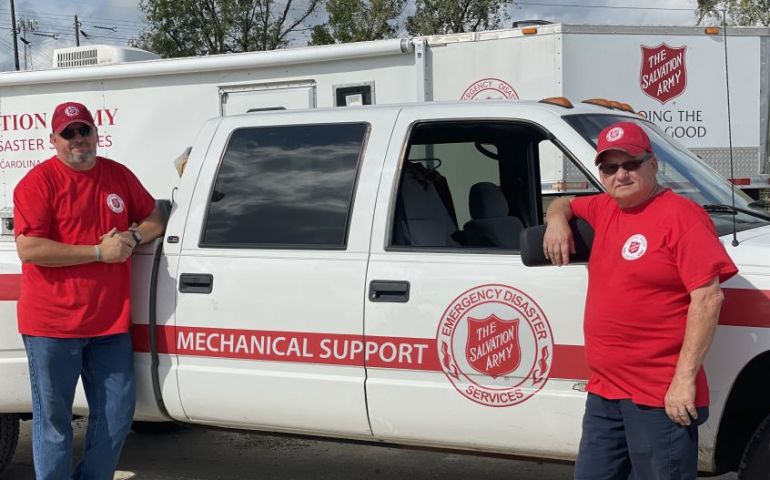 Gonzales, Louisiana (Septemer 18, 2021) When responding to a disaster that requires a long-term response, The Salvation Army's Emergency Disaster Services deploys a large fleet of vehicles and mechanical support units to ensure that Command teams and staff are well equipped to serve those who have been affected. This equipment can range from small electrical generators to large semi-trailers that provide housing, or other climate-controlled containers that are used to store food and other supplies that require refrigeration.
One of the logistical aspects of disaster response is the maintenance and upkeep of all the mechanical equipment that is on site. In Gonzales, Louisiana, Major Robbie Robbins (a Salvation Army Officer from South Carolina) and Brian Drummond (a Salvation Army employee from Arkansas) teamed up to provide the required maintenance for all the equipment and portable facilities on site at The Salvation Army's Incident Command post. The Incident Command post is the Disaster Response headquarters where our services are coordinated and deployed from.
Brian, an electrician by trade, was originally deployed to serve on a mobile feeding unit in response to Hurricane Ida. On his third day of deployment, Incident Command Staff found themselves trying to find a solution for a faulty compressor, and Brian stepped in with his training and skills as an electrician. Major Robbins, Officer in charge of vehicle maintenance, took note of Brian's work and reassigned him from public meal service to equipment and mechanical maintenance.
This newly formed team has since been hard at work installing GPS devices on canteens, checking fluid levels, and providing oil changes when needed, maintaining generators and air conditioners, and providing general repair work when required.
Major Robbins has been maintaining deployed vehicles and equipment during disasters since 1999. Robbins states "The lord equipped me to do what I do before I ever became a Salvation Army officer." When it comes to the work he does during a disaster, Major Robbins says, "I do it all because God puts me in the right place at the right time. I do it all for Him."