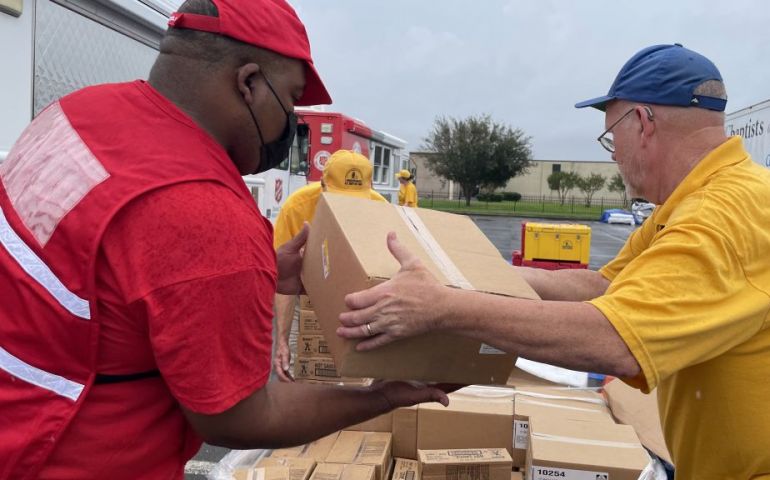 (New Orleans, LA) – Every morning, disaster relief crews from The Salvation Army's Emergency Disaster Services, roll into the parking lot of First Baptist New Orleans on Canal Boulevard in New Orleans, LA.  Canteens and roving units, staffed by Officers, Employees, and volunteers, line up on the side lot, waiting for a crucial part of disaster relief – hot meals and beverages.
In a makeshift kitchen, beneath oversized tents, cooks and other volunteers with The Southern Baptist Convention's North Carolina Disaster Relief, work hard to prepare the meals that crews will serve to people who are still trying to recover following Hurricane Ida.  Pallets of canned goods are moved back and forth by forklift drivers, boxes are unpacked and distributed to the teams, and refrigerated 18-wheelers pull in, deploy air brakes, and are greeted by volunteers eagerly waiting to unload much needed supplies.    It is a well-oiled machine, fueled by the love of God.
Since Hurricane Ida tore through parts of Louisiana, 32 Salvation Army units have served 345,694 hot meals, 86,249 snacks, and 184,856 drinks to hurricane survivors, first responders, and other crews working to restore services to those affected.  With more than 200 workers, and 24,837 hours of service, survivors have also received 17,266 hours of Emotional and Spiritual Care.
This work could not happen without the generous support of The Southern Baptist Convention, coming alongside The Salvation Army to deliver not only hot meals, but necessities individuals and families need to begin the recovery process.
This is SERVICE.  This is PARTNERSHIP.  This is #DoingTheMostGood.