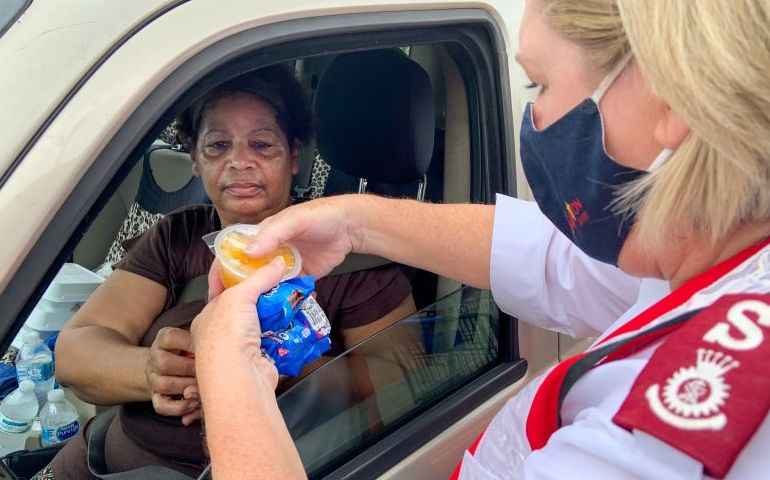 Even as power begins to come on, many communities are still reeling from the effects of Hurricane Ida. The Salvation Army New Orleans Response Team has been adjusting to areas without power and roaming its vehicles into neighborhoods that have struggled to gain access to basic needs. Many communities that have gotten their power back are walking into grocery stores with empty shelves.
Shirley Spillers remembers the last time that she leaned on The Salvation Army for help because it was during Hurricane Katrina. As Hurricane Ida began to show its course, Shirley and her husband evacuated. She waited nearly a week before coming back home but found it difficult to get food at local grocers because many of the surrounding neighborhoods are still without power or are rushing to stores to restock fridges. "Everybody seems to need butter, eggs, and milk and the basics to cook anything. We walk in the store and look at empty shelves," said Shirley, a New Orleans resident. She received a hot meal and hydration from one of The Salvation Army's feeding units. "To be able to stop here and get a hot meal and some water, is such a blessing. I'm grateful for The Salvation Army."
The Salvation Army New Orleans Response Team has provided 92,135 meals and 67,312 drinks to communities in need. Including 22,436 snacks and 1,306 hygiene kits. Its team has been working alongside the EOC and local officials to identify areas impacted by Hurricane Ida.
"Our team is continuing to adjust as power comes back on," said Incident Commander Ed Binnix. "We are sending teams into communities to roam and gather intel. We have people telling us about their family in different parishes that are still struggling to get food and water. We will send our units into those areas and assess the need." Mobile feeding units are capable of serving from 500-1,500 meals a day. The units are in fixed locations and can also be found roaming in local neighborhoods.