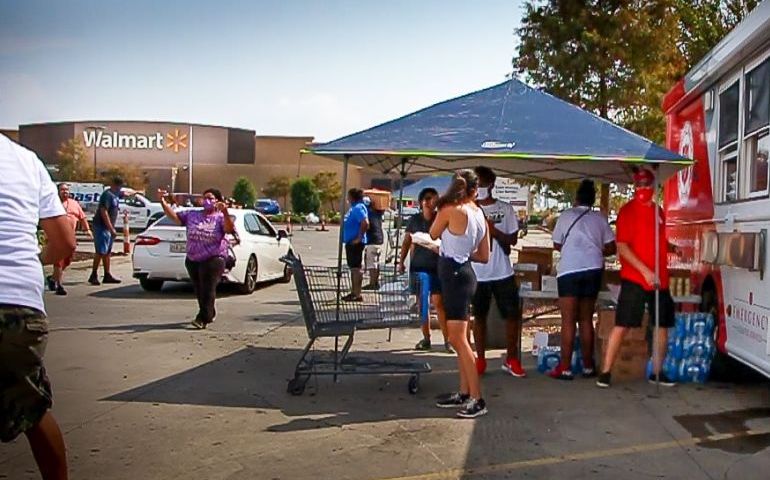 The Salvation Army teamed up with Walmart in New Orleans today to bring relief to more than 2,000 people over two days. Anyone in need of a hot meal and a case of water could come to the drive-thru operation set up in Walmart parking lots. 2,200 cases of water were provided by Walmart and 1,500 meals were provided by The Salvation Army.
"We are always grateful when Walmart comes alongside The Salvation Army to help meet needs in our communities," said Ed Binnix, Incident Commander for New Orleans Response Team. "Throughout the year Walmart helps The Salvation Army during Christmas, and back to school events, among other things. We were grateful for the opportunity to feed and hydrate these communities with them." Walmart provided water and additional volunteers to help facilitate loading the water into vehicles and handing out meals. The Salvation Army will continue serving meals at the 4301 Chef Menteur location at 10 AM today.
Commissioners Ken & Jolene Hodder, National Leaders of The Salvation Army will be visiting the Walmart location today at 4301 Chef Menteur Hwy and command post operations in New Orleans on Wednesday, accompanied by Commissioner Willis Howell.
The Salvation Army New Orleans IMT has provided 80,810 meals, 60,721 drinks, 21,320 snacks as of September 7, 2021. They have also distributed 1,069 hygiene kits and 94 clean-up kits. The Incident Command Team in New Orleans continues to evaluate and identify areas needing food, hydration, and emotional care.