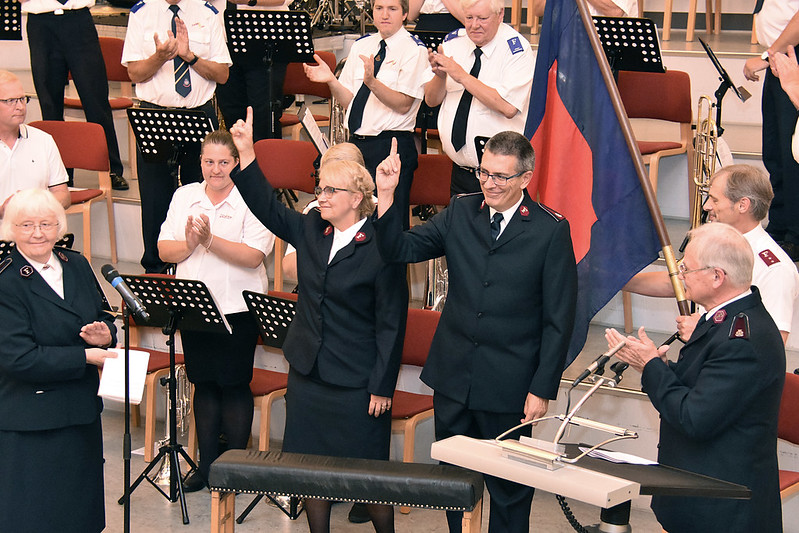 THE Salvation Army's new territorial leaders for Denmark and Greenland were welcomed into their responsibilities with a celebration of faith and hope for the future. Norwegian officers Lieut-Colonels Jan and Kjersti Risan were greeted in Copenhagen Temple by Salvationists and friends from across Denmark, along with representatives from the country's ecumenical community. A live stream ensured that people from the whole territory and around the world could witness the event.
The installation itself was conducted on behalf of General Brian Peddle by retired officers Commissioners Carl and Gudrun Lydholm, who also conveyed warm greetings from the General. They reminded the congregation that every Christian is called to the service of God.
That theme was reflected in the Bible messages from the new territorial leaders. Lieut-Colonel Jan Risan told the congregation: 'If I were to formulate one desire for what I would prioritise, it would be to give people a taste of Heaven. For that is what Jesus said: the Kingdom of Heaven has come near.'
He continued: 'It is at the core of the mission and task of The Salvation Army to be Christ-centred and convey hope and life in and because of him. In other words, to bring the presence of the Kingdom of Heaven to people today – a taste of Heaven.'
Pre-meeting music was played by Valby Band and, ahead of the formal installation, a small ensemble accompanied the congregation in a sung version of Francis of Assisi's prayer: 'Lord, make me an instrument of your peace.' Greetings and a prayer were offered by the Secretary General of the National Council of Churches in Denmark, Mads Christoffersen, who described The Salvation Army as 'the social voice of the church and a mediator of God's care'.
Returning to the call for every Christian to serve God, Lieut-Colonel Kjersti Risan told the congregation and online listeners: 'You and I have a life. I want to live for him and best manage the gifts and abilities he has equipped me with – so that others can see Jesus through me. It is my prayer and my wish.'
From a report by Major Levi Giversen