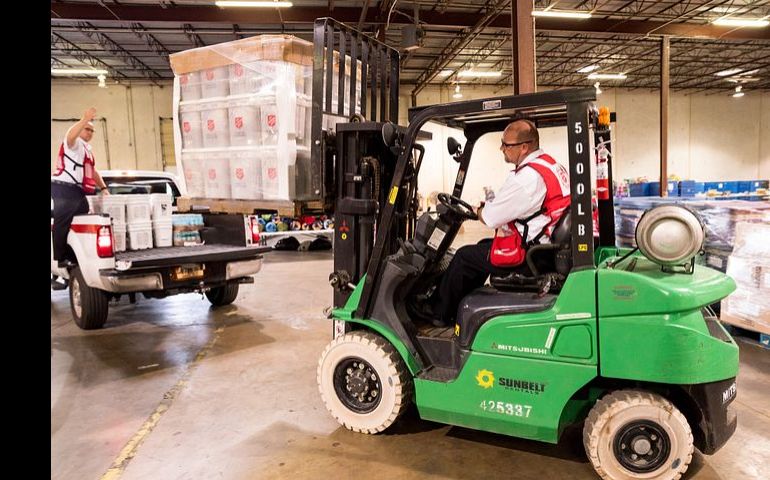 Dallas, Texas (August 27, 2021) – The Salvation Army Emergency Disaster (EDS) teams in Texas are closely monitoring and preparing for a potential response to Tropical Storm Ida, forecast to make landfall as a major hurricane along the Gulf Coast late on Sunday. EDS staff and response units will pre-stage in Beaumont, TX, this weekend.
The projected storm track currently forecasts that the rapidly developing system will make landfall along the Louisiana coastline, posing a threat of heavy rainfall and potential flooding in Southeast Texas. Salvation Army EDS teams in Texas, Louisiana, Alabama, Mississippi, Florida, and several other southern states are mobilizing personnel and units in anticipation of any potential response.
Alvin Migues, Emergency Disaster Services Director for The Salvation Army in Texas, said, "At this stage, we are in regular communication with The Salvation Army units in Texas coastal locations and will continue to monitor the storm and any local threat. We are mobilizing and pre-staging an Incident Management Team and ten mobile kitchens in Beaumont, along with other equipment, including a field kitchen and command unit. This will put our team in a position to respond in Southeast Texas and provide support to our neighbors in Louisiana."
In addition to a fleet of more than 35 mobile kitchens assigned year-round to locations in Texas, The Salvation Army also operates a command unit, refrigerated truck, a laundry unit, shower unit, bunkhouse, and two Field Kitchens. These large field kitchens can produce between 15,000-20,000 meals per day.
The Salvation Army in Texas provides EDS training opportunities throughout the year, so staff and volunteers are constantly ready to respond, often with very little notice, to provide support and assistance during times of disaster.
"We held an Incident Management Team training only last weekend in Arlington. We never know when we will be called to respond. Ongoing training is key to successful deployments and effective response efforts," said Migues. "The Salvation Army continues to focus on the provision of meals and hydration to both first responders and affected communities, as well as emotional and spiritual care."
For the latest information please go to www.disaster.salvationarmy.org and watch for regular updates on our social media pages at www.facebook.com/salvationarmytexas/ and www.twitter.com/salarmytx.