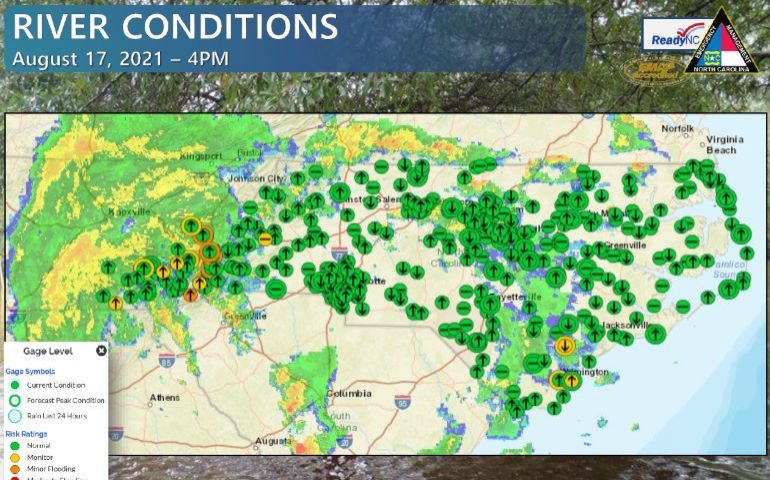 Cruso, NC (August 19, 2021) –Remnants of Tropical Depression Fred triggered severe flooding to parts of western North Carolina on Tuesday night, destroying roads, bridges, and structures. According to officials and media reports, 20 people remain unaccounted for and tragically 2 people are deceased. Currently, more than 250 search and rescue personnel and first responders from local jurisdictions and from across North Carolina are on the ground, working tirelessly to serve residents of the area. The Salvation Army has set up a canteen to provide meals, beverages, snacks, and emotional and spiritual care in Cruso, a small community that was especially hard hit by the storm.
"Responders are stopping by our canteen to pick up meals for team members working around the clock to help during this devastating time," said Major Susan Rodgers of The Salvation Army of Waynesville. "We are so grateful for them – for their love of others, their commitment to end suffering, and their commitment to restoring the lives of the residents here in western North Carolina. It is an honor to work alongside them."
Wednesday afternoon, Governor Roy Cooper declared a State of Emergency for the area. "This state of emergency will allow our first responders to get into our affected communities quickly to save lives, restore power, remove debris and bring supplies," said Governor Cooper. "North Carolina is strong and resilient, and we're committed to helping people and businesses recover as quickly as possible."
In the coming days, weeks, and months, The Salvation Army will continue to work with community partners to identify and address the unmet needs of the residents of Haywood County.
Image Credit:  North Carolina Emergency Management Flood Inundation Mapping and Alert Network