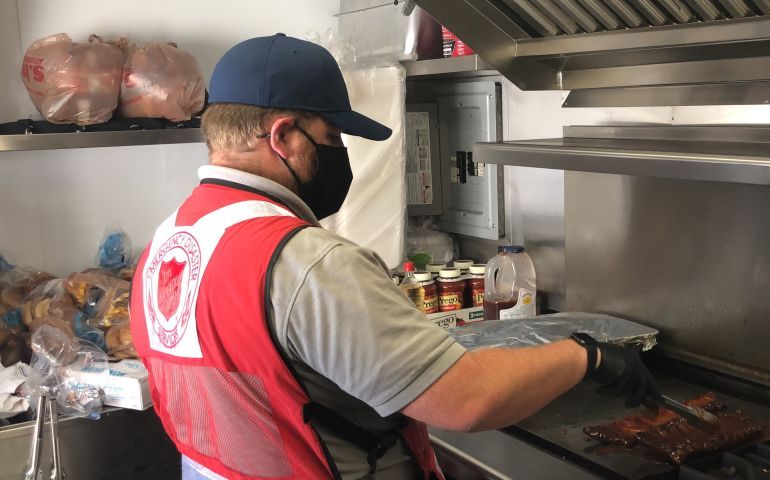 PHOENIX (Aug. 17, 2021) – At the request of the Maricopa County Department of Emergency Management and Maricopa COAD (Community Organizations Active in Disaster), The Salvation Army Emergency Disaster Services (EDS) have set up a canteen in Gila Bend, Arizona, to provide meals, beverages, snacks, and emotional and spiritual care to residents, evacuees and first responders affected by the devastating flooding in the area.
The recent flooding has left at least two people dead and prompted Arizona Governor Doug Ducey to issue a Declaration of Emergency to assist the small town about 70 miles Southwest of Phoenix.
"Our EDS Incident Management Team is expected to serve up to 125 meals a day from this canteen, but we have the means to serve hundreds more, if necessary," said Lt. Colonel Ivan Wild, Divisional Commander The Salvation Army Southwest Division, based in Phoenix. "EDS is also coordinating with the American Red Cross to transport and deliver meals to residents not able to leave their homes.
"As with all emergency disaster situations, The Salvation Army will be in the community as long as needed."
The Army's Incident Management Team has set up its feeding canteen at the Red Cross shelter at Gila Bend High School at 777 N. Logan Ave.
The Salvation Army is able to provide Emergency Disaster Services because of the generosity of the community. The best way to help is with a monetary donation, which allows EDS to purchase exactly what is needed in the community at any given time. One hundred percent of your monetary donations will go to serve the need in Gila Bend.
To learn how you can help our Gila Bend neighbors in need, please visit SalvationArmySouthwest.org or text "GilaBend" to 51555.