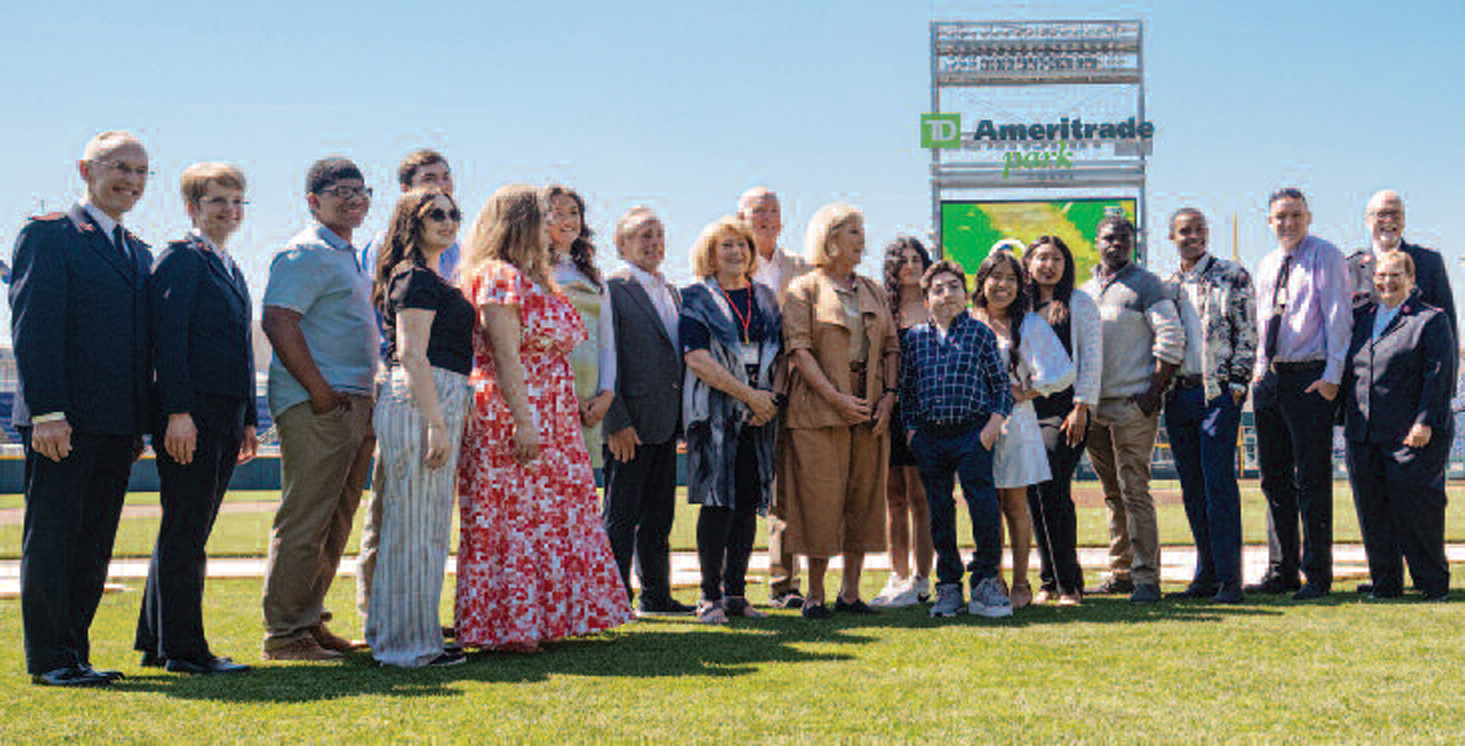 National leaders Commissioners Kenneth G. and Jolene K. Hodder congratulated the 14 scholarship winners at the 23rd annual D.J.'s Hero Awards Luncheon this summer in Omaha, Neb. The Hodders visited with the award winners—each of whom received a $10,000 scholarship—and celebrated the young people's achievements before attending the main event.
"When we look at you, we have reason to hope," said National Commander Commissioner G. Kenneth Hodder.
The luncheon was held outdoors at the TD Ameritrade Park, a baseball stadium and home of the NCAA College World Series, as a pandemic safety precaution, with guests enjoying traditional ballpark fare and speakers addressing the crowd from a stage at home plate. The event raised nearly $530,000 to support The Salvation Army's youth programs.
Among this year's scholarship winners were Humoom Darweesh, who arrived in Nebraska from Iraq in 2016 as a Yazidi refugee and a survivor of genocide at the hands of ISIS, and Andra Williams, who maintained stellar grades and excelled as a cellist and a leader on his high school robotics team while living in a homeless shelter for more than year.
Speaker Byron Pitts, co-anchor of ABC News' "Nightline," shared insights from his own story of perseverance in overcoming illiteracy and gave a call to action to the event's attendees.
"Indifference can be a deadly weapon," said Pitts. "Right now—no matter your age, no matter where you are in life—don't be indifferent to your opportunity to change the world."
The D.J.'s Hero Awards were established in 1999 in honor of D.J. Sokol, who died at 18 after a battle with cancer. The scholarships are underwritten by David and Peggy Sokol, in partnership with the Fred Hunzeker family and Terri and Jack Diesing. They are awarded to Nebraska high school seniors who exemplify perseverance and selflessness and who are servant leaders in their communities.