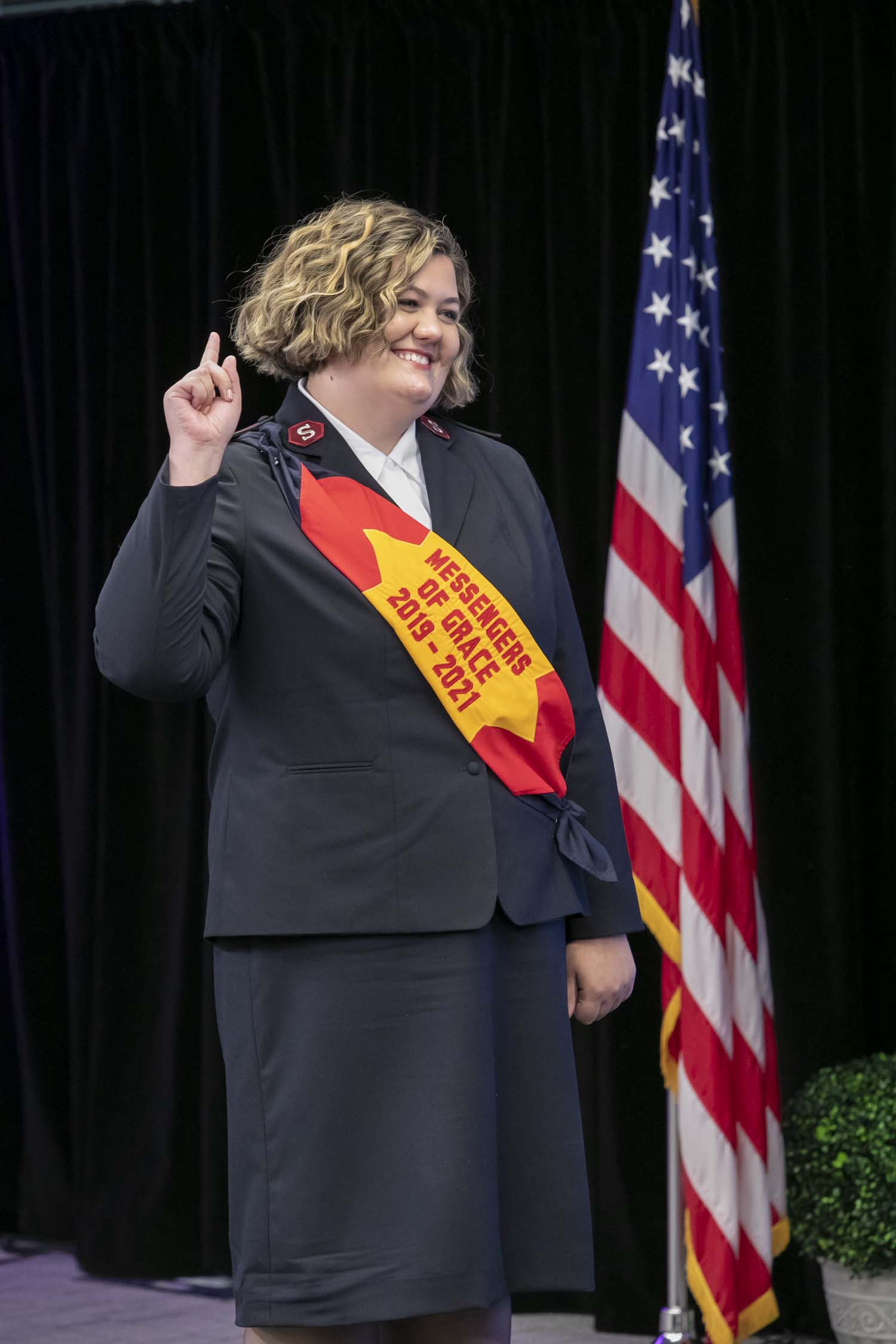 The Messengers of Grace are ordinary people called to a life of extraordinary ministry, according to Major Brian Davis, College for Officer Training (CFOT) principal. He commended them in the livestreamed Sunday morning service as reliant on God, resilient, resourceful and ready for battle, saying though they had a unique training experience marked by the global pandemic, they rose to the challenge.
"The salvation war demanded it, and they responded," he said, "because they want to be of use to the Kingdom. They want to make a difference."
A testimony to their session's diversity, the cadets declared their commitment to God and The Salvation Army as they presented their affirmation of faith in English, Spanish and French via video with Chief Secretary Colonel Steven Howard.
As their families watched from a specially designed set, each cadet crossed the platform to be ordained and commissioned as officers by territorial leaders Commissioners Brad and Heidi Bailey, who affirmed their calling, giftedness and readiness for service. A/Captains Doug and Kim Winters and A/Captains Milagros López-Pagán and Pedro Pagán Acevedo also received their commission as full captains.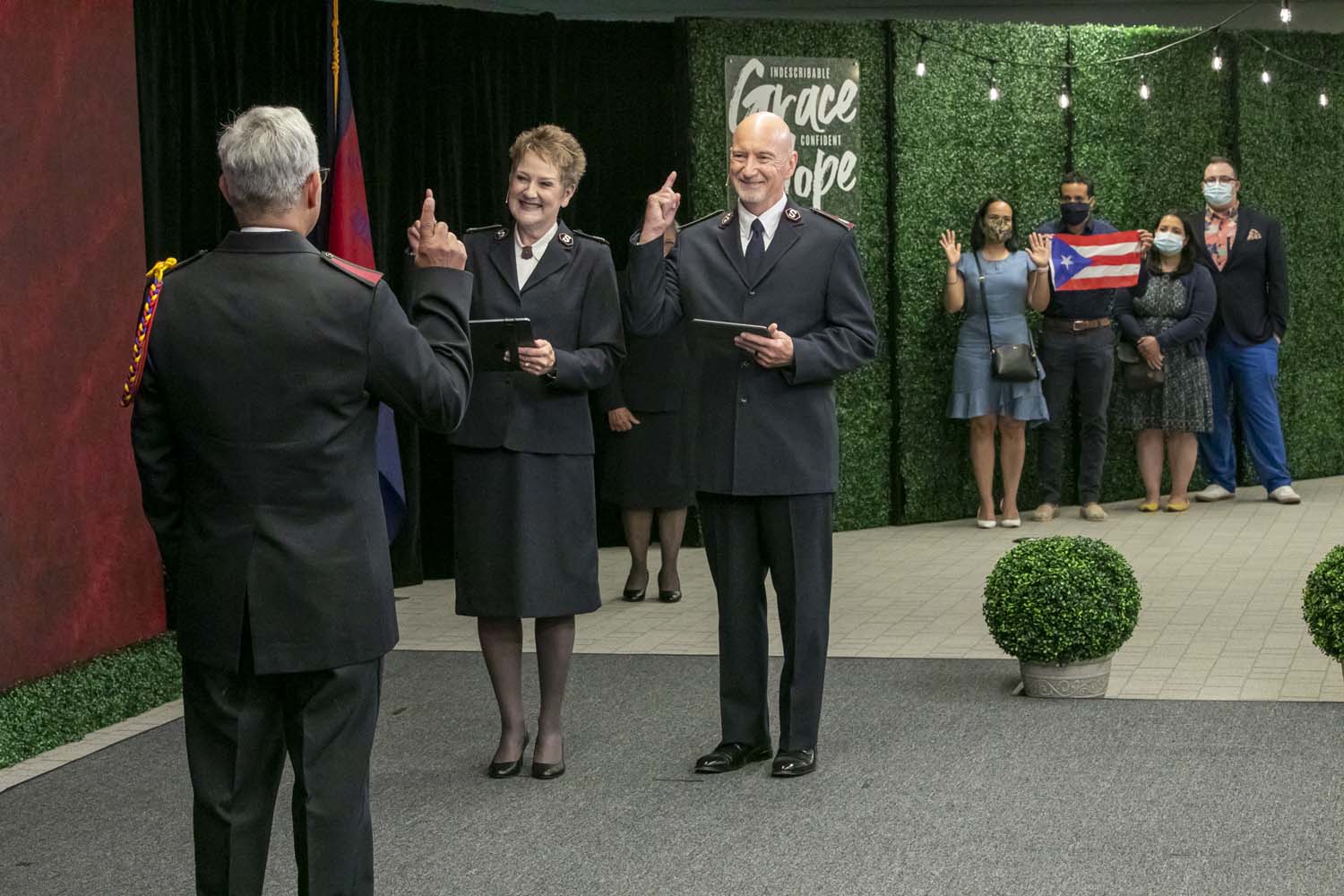 "May the Messengers of Grace know Your divine peace and protection as they move out into the world," implored Commissioner Heidi. "A world that will likely take them from the known to the unknown, from the comfortable to the uncomfortable, from the convenient to the inconvenient, from the whole to the broken, from the healthy to the sick, and yes, from light into darkness, but they are willing, Lord, and You are able."
In his message, General Brian Peddle challenged the new lieutenants and all Centralites to be an Army that is battle-ready, set apart and a force for good in a world that is increasingly taken over by secular ideology.
"The Army is in its most challenging times, and it's in this that we are called to win the world for Jesus," he said.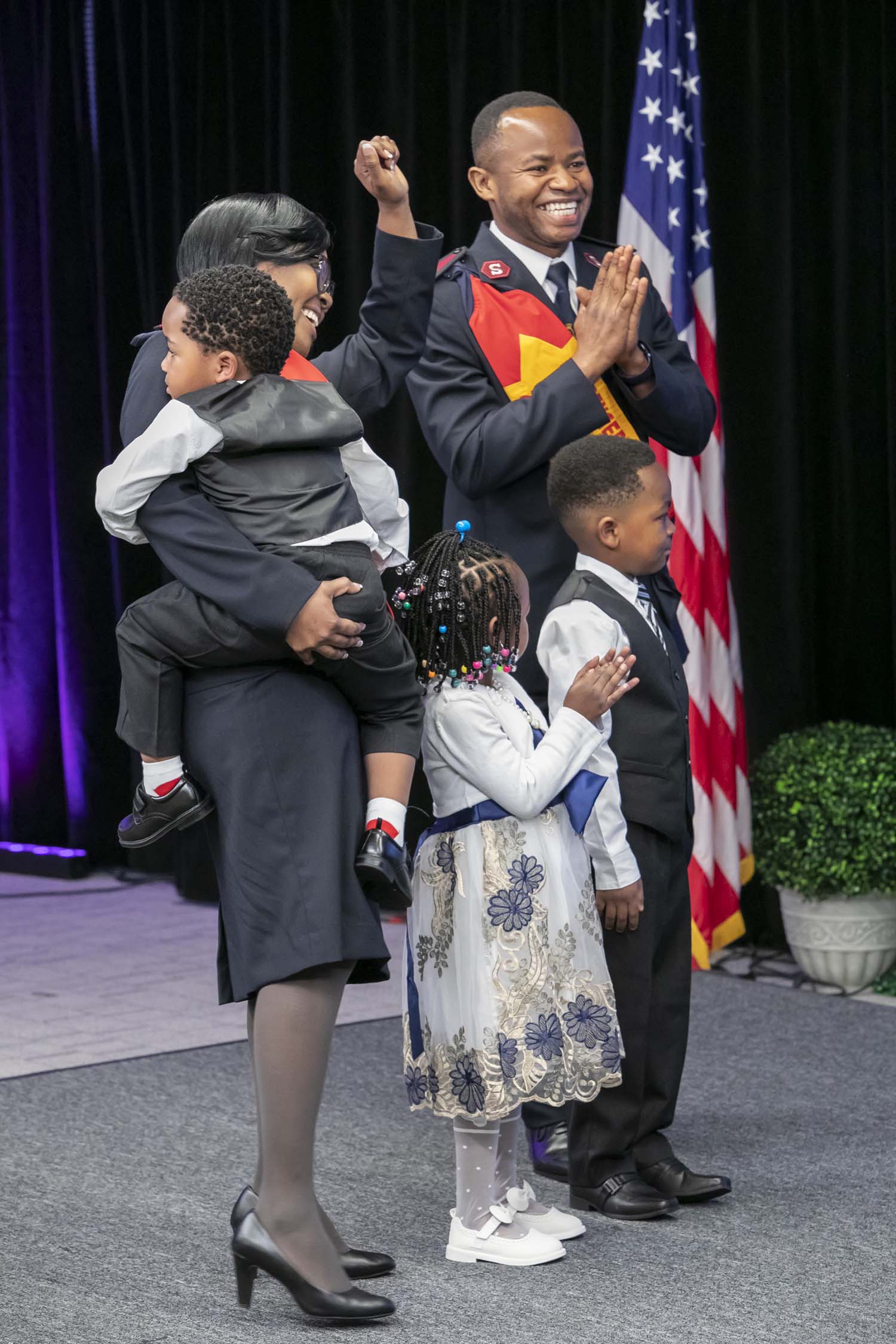 The General called for Salvationists to stand firm on God's Word and promises, to embrace Spirit-filled innovation and to join the Messengers of Grace by stepping out in obedient faith.
The energetic afternoon Service of Appointments was interspersed with prerecorded videos, including the ever-popular parade of flags and singing of the session song, "Grace Wins," by Matthew West.
Valedictorian Lt. Shannon Cabrera spoke of her session's diversity and resiliency, assets that will serve them well in their first appointments. The recipient of the Lt. Colonel Kathleen Zehm World Mission Award, she and her sessionmates applauded other award winners including Lt. Macy Theriot (Salutatorian), Lt. April Alvarez (Commissioner Samuel Logan Brengle Preaching Award), Lt. Breanna James (Colonel Albert Pepper Servant Leadership Award), and Lt. Simon Micula (Commissioner Andrew S. Miller Evangelism Award).
The General and Commissioner Rosalie Peddle then charged the new lieutenants, officers and soldiers to recognize and share God's grace in every situation and to be obedient to His call without fear.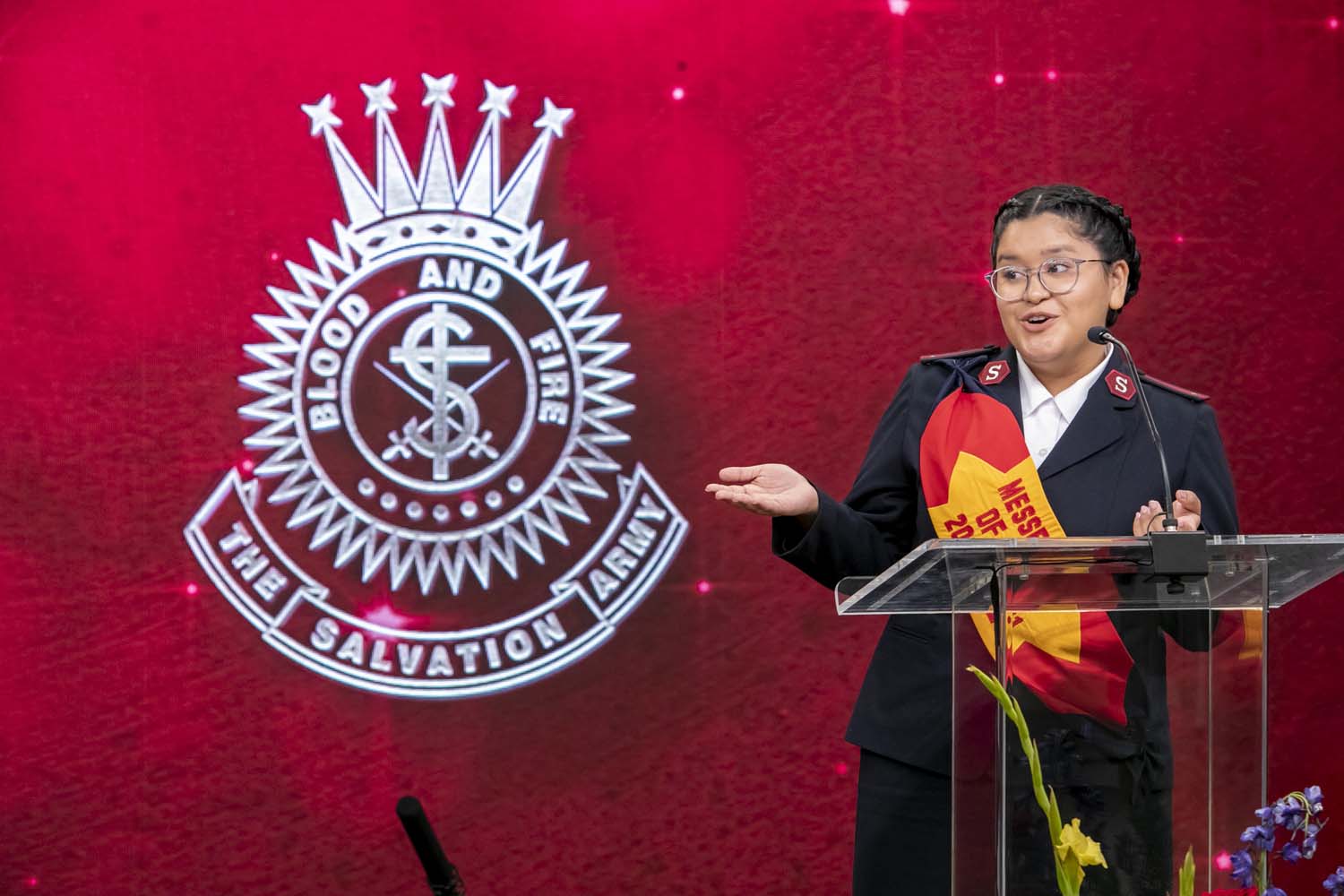 "Together we are the Army," said Commissioner Rosalie. "We personally carry the responsibility by God's grace to create His Kingdom here on earth, a kingdom that knows and experiences the rhythms of grace in individual lives and communities. This means that we challenge our broken cultures, reject the status quo and move out from here today knowing God's grace and sharing that grace in every sacred encounter."
Charged to carry out the Great Commission, the new lieutenants received their appointments. There was anticipation as each individual, couple or family joined Commissioners Bailey in front of a jumbo screen where their appointment would be revealed on Google Earth, followed by excitement and joy as they were cheered virtually by members of their families, home corps and divisions. They take up their appointments in corps, Kroc Centers and at the CFOT, deployed to be Messengers of Grace to a world in need.