by Sharon Tatom-Garcia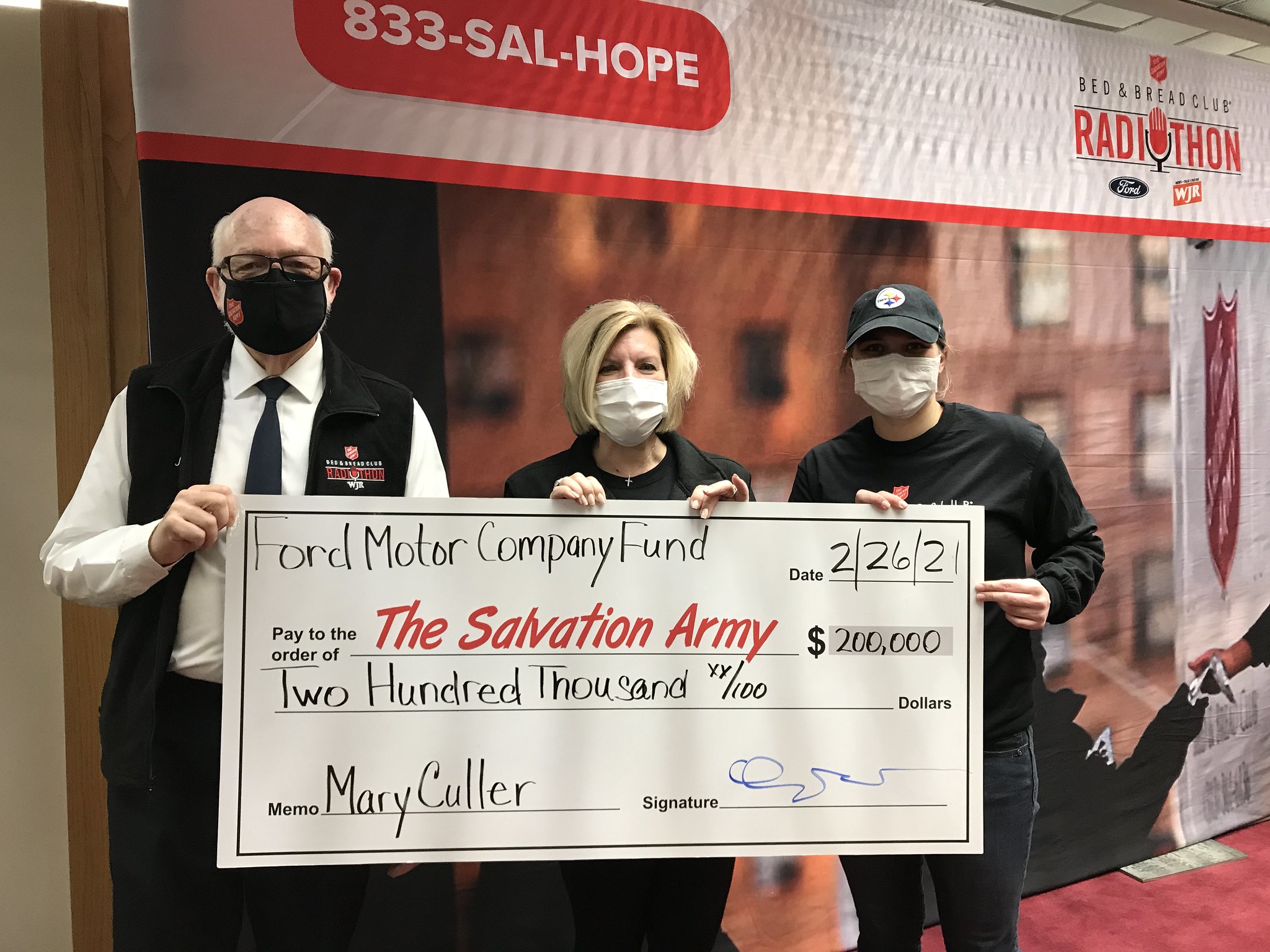 The Salvation Army Metro Detroit's 34th annual Bed & Bread Club Radiothon, presented by Ford Motor Company Fund, raised $1,734,364.00 to combat hunger and homelessness.
The annual radio fundraiser aired on News/Talk 760 WJR with its onair personalities Paul W. Smith, Frank Beckmann, Steve Courtney, Mitch Albom, Ken Brown and Guy Gordon broadcasting from their homes in Michigan, Florida and as far away as Haiti.
This year's radiothon marked 11 consecutive years of partnership between The Salvation Army and WJR. In honor of Beckmann's retirement, the nonprofit presented him with a plaque commemorating his support.
National Commander Commissioner Kenneth G. Hodder, Salvation Army Metro Detroit and National Advisory Board Member Jim Vella, and Detroit radio Hall of Famer and Bed & Bread Club radiothon founder Dick Purtan lent their voices to help those who are hungry and homeless in metro Detroit. Michigan natives Tim Allen and Christine Lahti joined business and civic leaders to show their support of The Salvation Army of Metro Detroit.
Large contributions throughout the day included:
• Mary Culler, Ford Motor Company Fund president, called into the live broadcast to donate $200,000 on behalf of the philanthropic organization;
• The Jack and Annette Aronson family joined virtually to donate $100,000 through the Artichoke Garlic Foundation;
• A check for $50,000 was presented by The Salvation Army Metro Detroit Advisory Board, Echelon Detroit and the Women's Auxiliary;
• The Bottle Crew President Joel Jacob called in to give $36,000;
• Mr. Edsel B. Ford II joined virtually to donate $35,000 to the cause;
• Reflecting on 34 annual radiothons, Pat Moran Chevrolet and The Dick & Gail Purtan Family Foundation, each contributed $34,000;
• Detroit native and comedian Tim Allen challenged the public to meet his $25,000;
• DTE Energy Vice President of Public Affairs Lynette Dowler called in to give $25,000 from the DTE Foundation;
• Overnight donations were matched through a total of $20,000 in contributions from anonymous donors;
• Alva Adams Mason called in this year to contribute $15,000 on behalf of Toyota Motor North America;
• Pat Milliken Ford and Detroit musician, KEM, each virtually contributed $10,000;
• Jim Vella and his family once again stepped up to donate $10,000.
"The Salvation Army is blessed to have News/Talk 760 WJR, Ford Motor Company Fund and all our generous donors who have stepped up to help us serve our community in these difficult times," said Lt. Colonel John Turner, Eastern Michigan divisional commander. "All the funds raised through the 34th annual Bed & Bread Club Radiothon will allow us to continue providing food, shelter and hope in His name."
The Bed & Bread Club Radiothon has raised more than $39.5 million in 34 years.
When it comes to serving Detroiters in need, the Bed & Bread Club fills a unique yet crucial role in the city through its food trucks and homeless shelters. It serves more than 3,600 meals and provides 300 people shelter each day to those who are hungry and homeless. Trucks make 57 stops every day to serve Detroit's most vulnerable population sandwiches, soup, hot chocolate, blankets, and more.