by Kevin Boesiger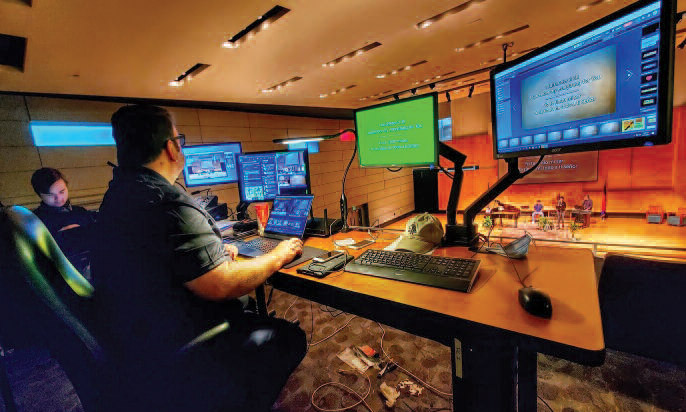 Christmas at the Omaha, Neb., Ray and Joan Kroc Corps Community Center looks a little different this year, but "Simply Christmas" is bringing into focus the reason for the season—Jesus. The program combines pre-recorded and live performances in front of a socially distanced live audience and those joining online.
"It will offer us a time to cut through all the glamour of the season and remind us of the beauty of the One who is the reason for this season; 'Simply Christmas' celebrates simply Jesus," said Captain Tracy Gantner, Kroc Center officer for program development. The program presents the busyness we often are wrapped up in at Christmas and guides us to the conclusion of simply worshipping baby Jesus in the manger. It includes traditions like singing carols, reading the Christmas story and sharing what Christmas means to different people. The difference is in how the story is told.
"Simply Christmas" is another way to reach the growing Omaha Kroc Church online audience and invite new viewers. Some elements will combine live performers in sync with virtual performers like a vocal soloist being accompanied by a virtual choir. The Kroc Center family and employees will read scripture live and virtually. The socially distanced live audience will engage in singing carols. The program ends with "Silent Night" as it debuted on Christmas Eve 1818 with a solo voice and guitar, then the audience encouraged to join. The Kroc Center hopes to give families a sense of normalcy by including many standard Christmas program components but believes this new presentation can give the familiar story a fresh perspective.
"So many things in our lives have changed over the past several months, but the one constant is Jesus. 'Simply Christmas' is meant to bring us out of the chaos and fill our hearts with a peace that reminds us of the reason for the season," said Captain Tracy.
Attend "Simply Christmas" on Saturday, December 12, at 7:00 p.m. or watch on the center's Facebook page.