by Roger Snider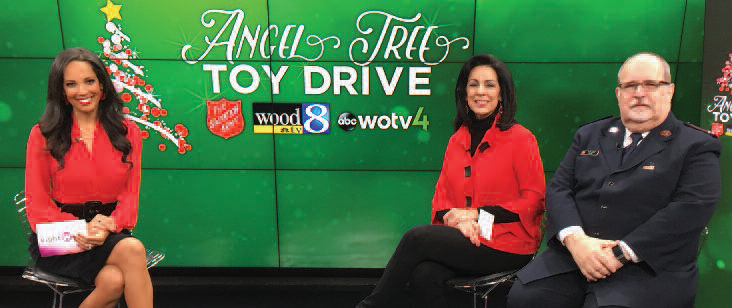 The year was 1990, and the Teenage Mutant Ninja Turtle action figure was the toy of choice to find under the Christmas tree for children across America. Unfortunately, for some children finding anything at all under the tree was no more than a dream. That same year The Salvation Army in Grand Rapids, Mich., and local NBC affiliate WOOD TV8 formed a partnership that has lasted three decades and provided toys for over a half-million children in west Michigan.
"WOOD TV8 has been proud to partner in this tradition for the past three decades. Serving the community is what we do and being able to support west Michigan families to provide hope and happiness around the holidays has been a privilege. The Salvation Army has been a wonderful partner, and we are grateful to be a voice to spread awareness of this long-standing tradition in west Michigan," said Julie Brinks, WOOD TV8 vice president and general manager.
On any given year, the toy drive provides nearly 6,500 children with toys in Kent County and toys for over 25,000 children in the WOOD TV8 viewing area. The Salvation Army provides logistical support, and WOOD TV8 provides on-air mentions, interviews and stories from the field. Aired throughout December, these stories are tied to messaging that cross-promotes the Angel Tree with the Red Kettle Christmas campaigns. We've heard from a bellringer in Muskegon, a single parent in transitional housing in Grand Haven and a client turned employee at the Grand Rapids Adult Rehabilitation Center, to name a few. This year features two retired sisters, Sue Nelmes and Kay Perry, who have logged 22 years of service in support of the Angel Tree Toy Drive. Other aspects of the toy drive look different this year due to COVID-19, but people are uniting in creativity, perseverance and a genuine desire to support west Michigan's children.
The community impact the toy drive has created is certainly not lost on Major Glen Caddy, Western Michigan and Northern Indiana divisional commander, who said, "Having a 30-year relationship with WOOD TV8 through the Angel Tree program has allowed The Salvation Army in western Michigan to come alongside thousands of families each year and provide happiness to tens of thousands of children. We are extremely grateful for our partnership with WOOD TV8 as we fulfill our promise of 'Doing the Most Good.' Our communities are better because of them."
It's difficult to know what the toy of choice will be in another 30 years. More likely than not, The  Salvation Army and WOOD TV8 will still be meeting the needs of children and adults as they've done for decades.