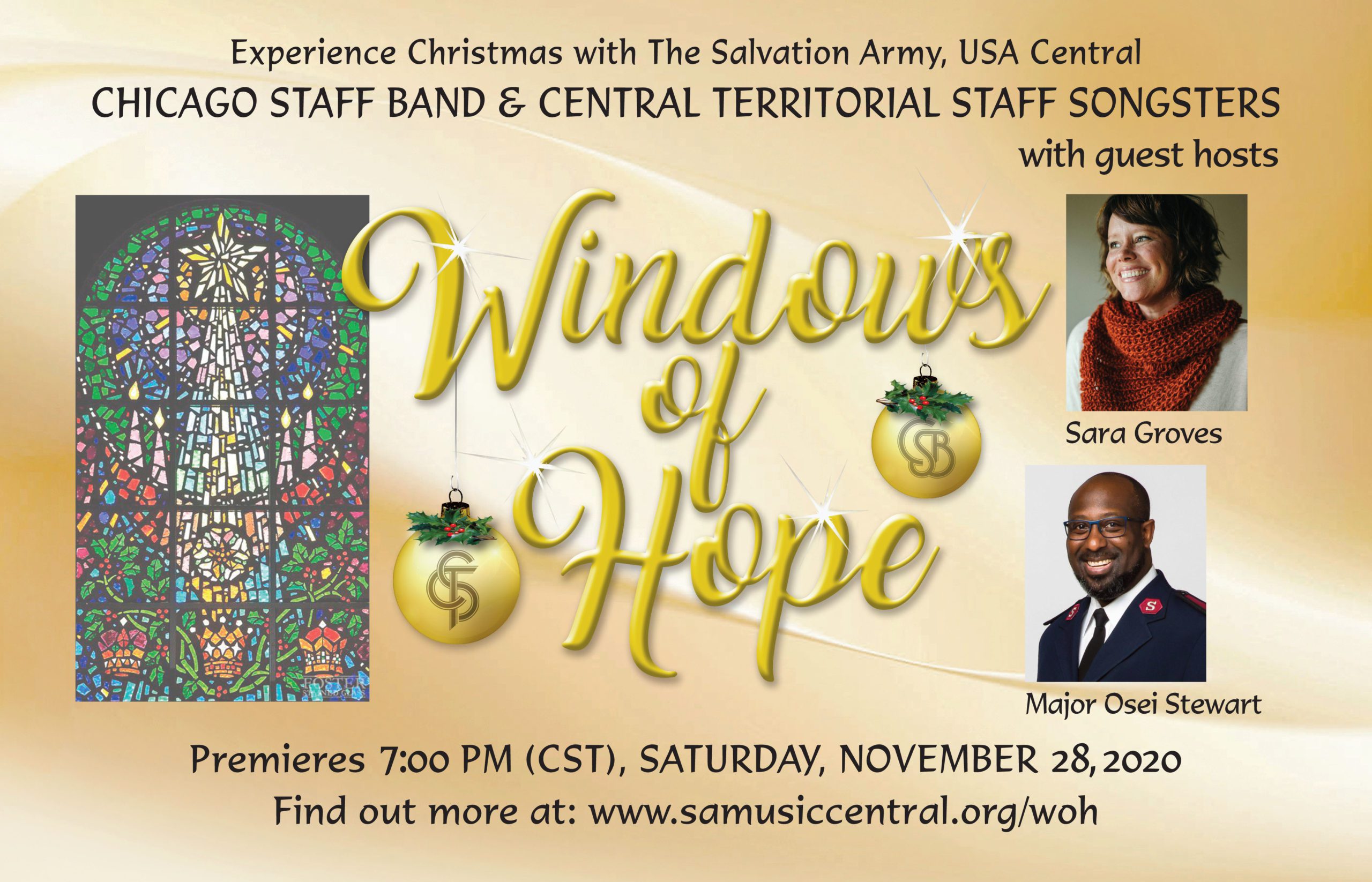 Though the Chicago Staff Band's (CSB) Sounds of the Seasons concert had to be cancelled this year due to COVID-19, there is a silver lining in their production of a professional caliber Christmas project with the Central Territorial Staff Songsters (CTSS) called Windows of Hope. Replete with the glorious music of Christmas interwoven with scripture telling the wondrous story of our Savior come to earth, the one-hour video extends the reach of these musical groups to hundreds—potentially thousands—more people and provides a quality resource for corps to use in worship just in time for the holiday season.
Joining the CSB and CTSS for Windows of Hope are two dynamic cohosts. Many Centralites will know contemporary Christian singer/songwriter Sara Groves, whose heartfelt words and beautiful melodies  have wooed us to authentic worship for more than two decades. Alongside her will be Major Osei Stewart, a Western Territory officer whose talent is far more familiar on the coast but a perfect fit for this project. Pursuing a career in music and stage performance before becoming an officer, the major has used his gifts of oration and singing in ministry to bless and bring people to Jesus. He is a first tenor in the Western Territorial Staff Songsters. Both Major Osei and Sara Groves share vocal solos as well as narration.
"With so much of this year being negative and just plain hard it has been our privilege to remind ourselves and our listeners of the love of God. We hope you will enjoy this joint Christmas effort by the CSB and CTSS," offered soprano Major Heather Holman.
Dr. Harold Burgmayer, territorial music and creative arts ministries secretary, concurred, "The message of hope found in the Christmas story is so needed in these trying days…We believe viewers all over the world will be looking for this experience, even if for just an hour, especially since we will not be able to gather this year as we would traditionally to enjoy the carols and story of Christmas."
To produce Windows of Hope, CSB members met by sections for weekly recording sessions, with no more than 10 socially distanced at a sitting, and the CTSS sang with headphones into their cell phones. "It is not easy. The commitment to personal time and practice is costly. The lonely process of recording by oneself requires multiple takes to get a satisfactory recording," said Harold. "But even in isolation, and while many miles apart, the cadences of the guide tracks in our headphones brought the CSB and the CTSS together in a rich, collaborative partnership."
From the exciting opening "A Christmas Festival" by Leroy Anderson (arr. by William Gordon) featuring seven well-known carols to the perennial jazz favorite "Three Kings Swing" by William Himes to the charming and reassuring finale "All is Well" by Michael W. Smith (arr. by Harold Burgmayer), this Christmas program is the worship experience we all need this season, renewing our joy and encouraging us to live in the hope Christ came to bring.
"Jesus was born in a time when darkness, uncertainty and  fear were felt in the life of His people, such as it is today, but to those who received Him He brightened their situation and gave them joy, peace and everlasting hope," concluded Abraham Leka, baritone in the CSB. "Are you ready to be a partaker of His blessings? Remember, He is the same yesterday, today, and forever. Merry Christmas!"
Visit samusiccentral.org for more information or to connect to watch. Windows of Hope premieres Saturday, November 28, at 7:00 p.m. (CST).