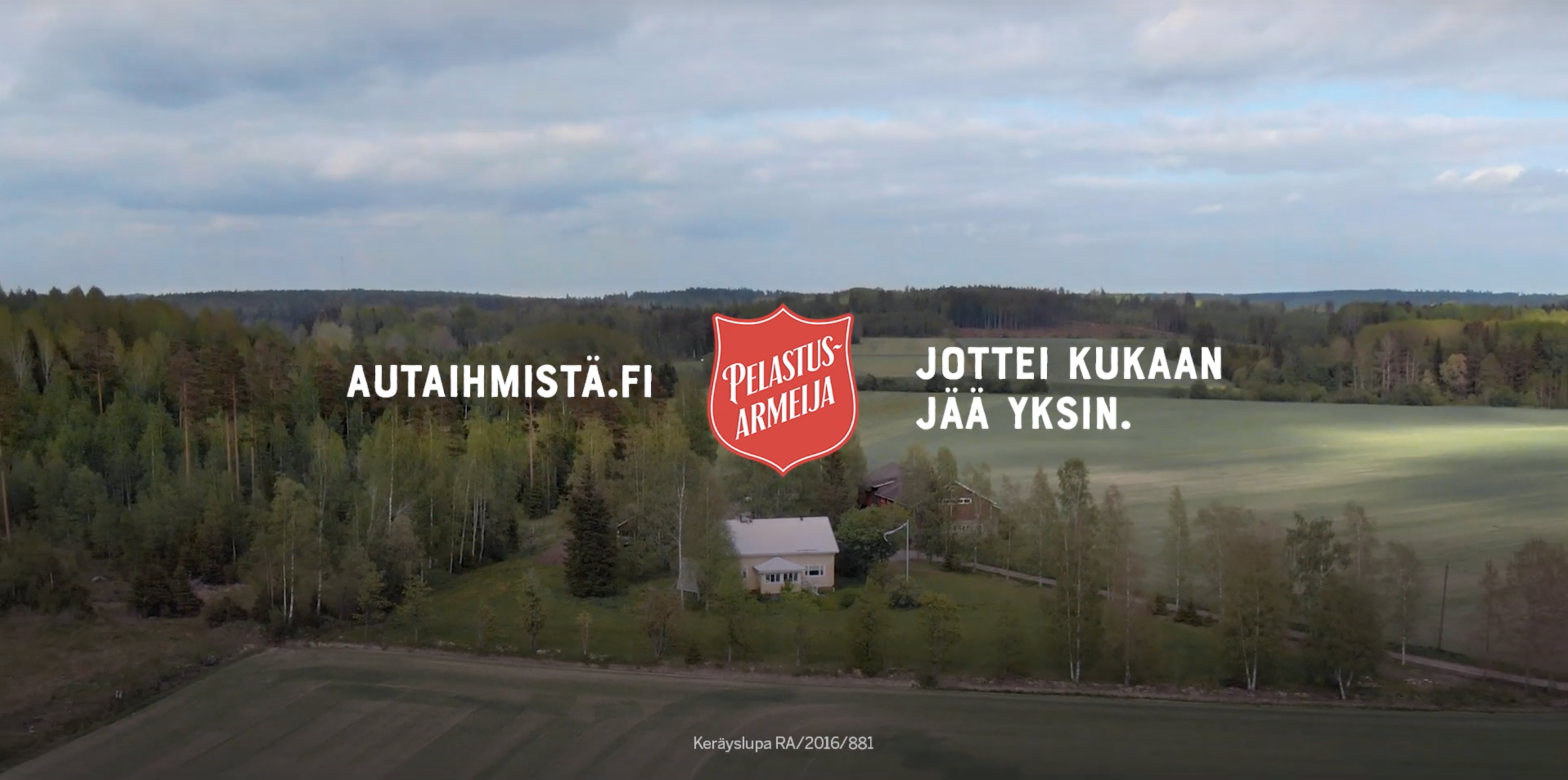 A SHORT promotional film commissioned by The Salvation Army in Finland has won the accolade of Best Cinema Advertisement of the Year in a competition organised by the country's largest cinema chain, Finnkino. Voted for by thousands of Finnish movie-goers, Help People: Love of Life won the public's approval to clinch the title.
The film – a largely pro bono production by Helsinki-based ad agency Make It Simple – shows moments of a couple's life from youth through to old age. Featuring joyful scenes of marriage and the birth of a daughter, the advert also portrays the difficulties of poor health and concludes with an emotive shot showing one of the couple remaining on their own. The striking, dialogue-free film simply reminds viewers that 'no one must be left alone'.
Among hundreds of entrants, The Salvation Army's film stood out – with comments from the public almost invariably describing the film as 'touching'.
'The film captured the topical issue of loneliness and longing for love experienced by elderly people, when there is no one to hold their hand,' The Salvation Army's Anne Fredriksson, Head of Marketing and Corporate Relations for Finland, told Finnkino. 'It is great that the subject touched Finns so much. It has strengthened our confidence in a strong story that donors can identify with and we are grateful to Make it Simple, Otto Production and director Markus Virpiö, whose goodwill made the film a reality.'
The film has also proved to be highly effective as a fundraising tool, generating considerable income to support The Salvation Army's ongoing work with older people in Finland.
Help People: Love of Life was directed by Markus Virpiö and produced by Risto Nikkilä with assistance from Jarkko Tuuri (Creative Director) and Pia Eiro (Account Director) from Make it Simple.
From a report by Finland and Estonia Territory 
IHQ Communications
International Headquarters