In the vein of John Krasinski's YouTube sensation, "Some Good News," we share some of the feel-good stories of people's kindness, generosity and service across the Midwest that have inspired us.
Heart for our heroes
During National Nurses Week in May, the Western Division launched a campaign across Nebraska, South Dakota and western Iowa called "Heart for Our Heroes" to honor and salute doctors, nurses and other health care staff working on the frontlines of the pandemic.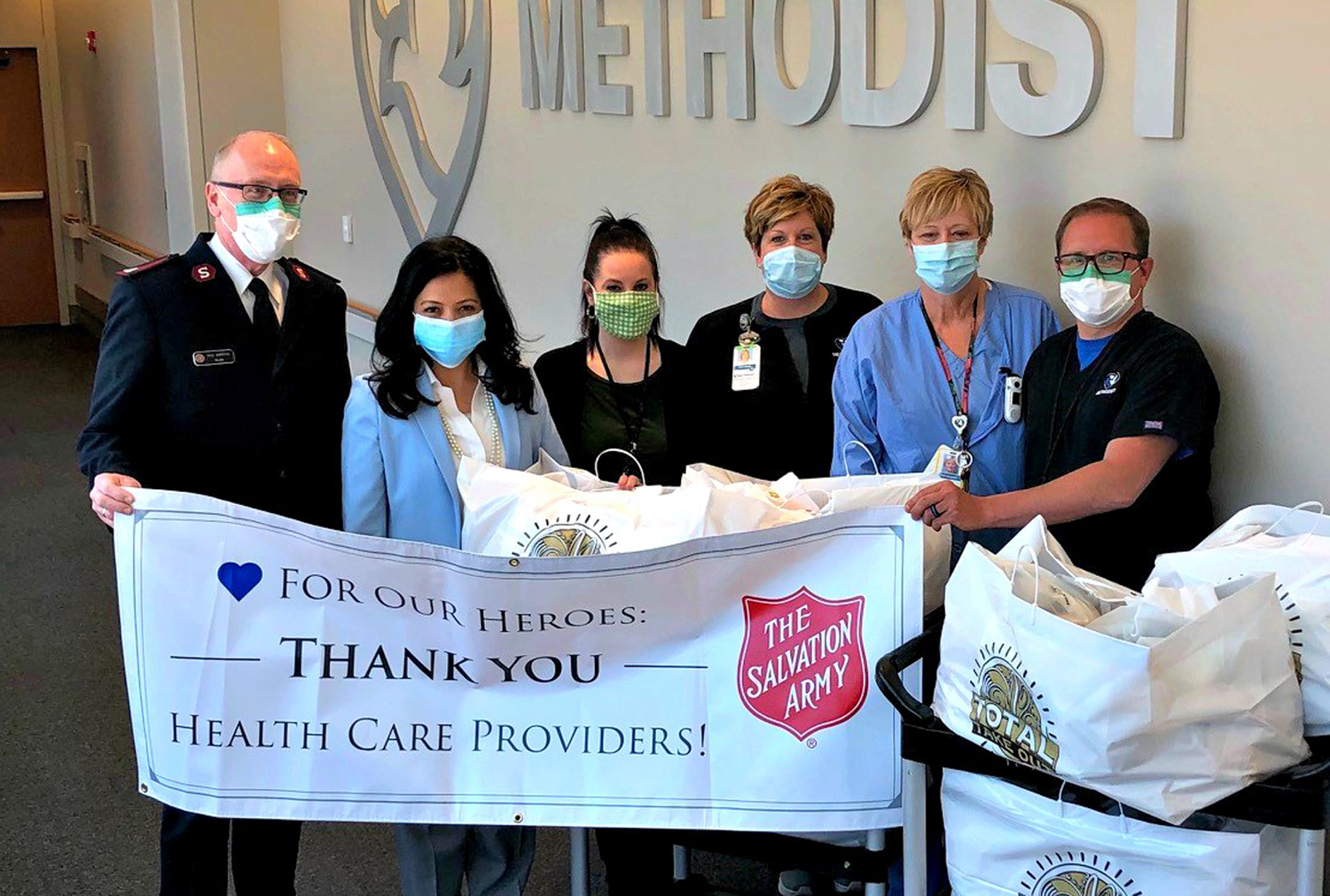 Officers and staff in Omaha, Neb., provided hundreds of sack lunches to health care staff at seven area hospitals. The meals were prepared by local restaurants and were underwritten by Blue Cross and Blue Shield of Nebraska. Meanwhile, units across the three-state area provided lunches at hospitals in their respective communities.
"We want to say 'thank you' to health care professionals across the three states we serve who are  working around the clock amid the pandemic," said Major Greg Thompson, Western divisional commander. "These lunches are one small way to show our gratitude and support, and we're thankful to Blue Cross and Blue Shield of Nebraska for helping to make this initiative possible here in Omaha."
"Making sure people are cared for is our top priority during this public health crisis," said Steve Grandfield, chief executive officer at Blue Cross and Blue Shield of Nebraska. "We are proud to join The Salvation Army in providing meals to the health care workers who are on the frontlines, spending time away from their families and giving so much of themselves to care for patients in our communities."
Walking to 100
by Dan Furry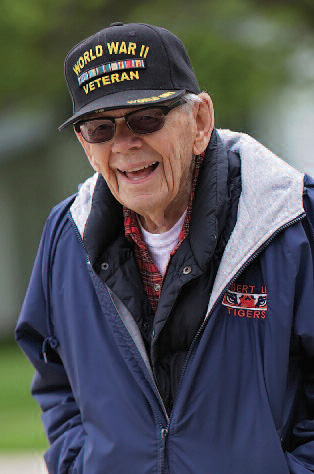 Though he's turning 100 this summer, Mickey Nelson still has things he wants to check off his bucket list.
All his life, he's lived in Clarks Grove, Minn., just north of Albert Lea, in the house in which he was born in 1920. Mickey has accomplished a lot during this life, including military service during World War II and owning a successful bus business for 58 years, as well as a sand and gravel company.
He has become a fixture in Clarks Grove, often seen walking down Main Street, past the hardware store and the post office and The Salvation Army clothing donation box. Just about everybody in town knows Mickey and waves while he's out walking.
But something has bothered Mickey as of late: the COVID-19 pandemic and the suffering it has inflicted on his neighbors. He has seen the effect on families whose jobs have been furloughed or eliminated, many of whom have no savings to fall back on. Statistics show 700,000 Minnesotans and North Dakotans filed for unemployment since the start of the pandemic, roughly 20 percent of the workforce. As many as 40 percent have never visited a food shelf, but now find themselves relying on them to help feed their families.
"I know that people are struggling, either from the illness or a job loss from all the businesses shutting down," Mickey said recently. "I just thought there was something I could do to help."
Mickey and his daughters came up with a "bucket list" idea to help these neighbors—inspired by a centenarian Englishman who walked 100 laps. But instead of laps, Mickey will walk 100 miles by the end of this summer through the streets of Clarks Grove. He's calling it, "Walking to 100," not only because he will walk 100 miles but also because he turns 100 this summer.
Mickey hopes people will donate money to support his effort to help others and has selected The Salvation Army in the Northern Division, which serves Minnesota and North Dakota, to use the money he raises to provide ongoing relief from the pandemic.
Kindness multiplied
by Cathleen Himes
Olivia Tyler is just 7 and already she is on a mission to help others. When the State of Illinois mandated face masks be worn in public due to the pandemic, she started selling washable masks and, with each one that was sold, donating one for someone in need.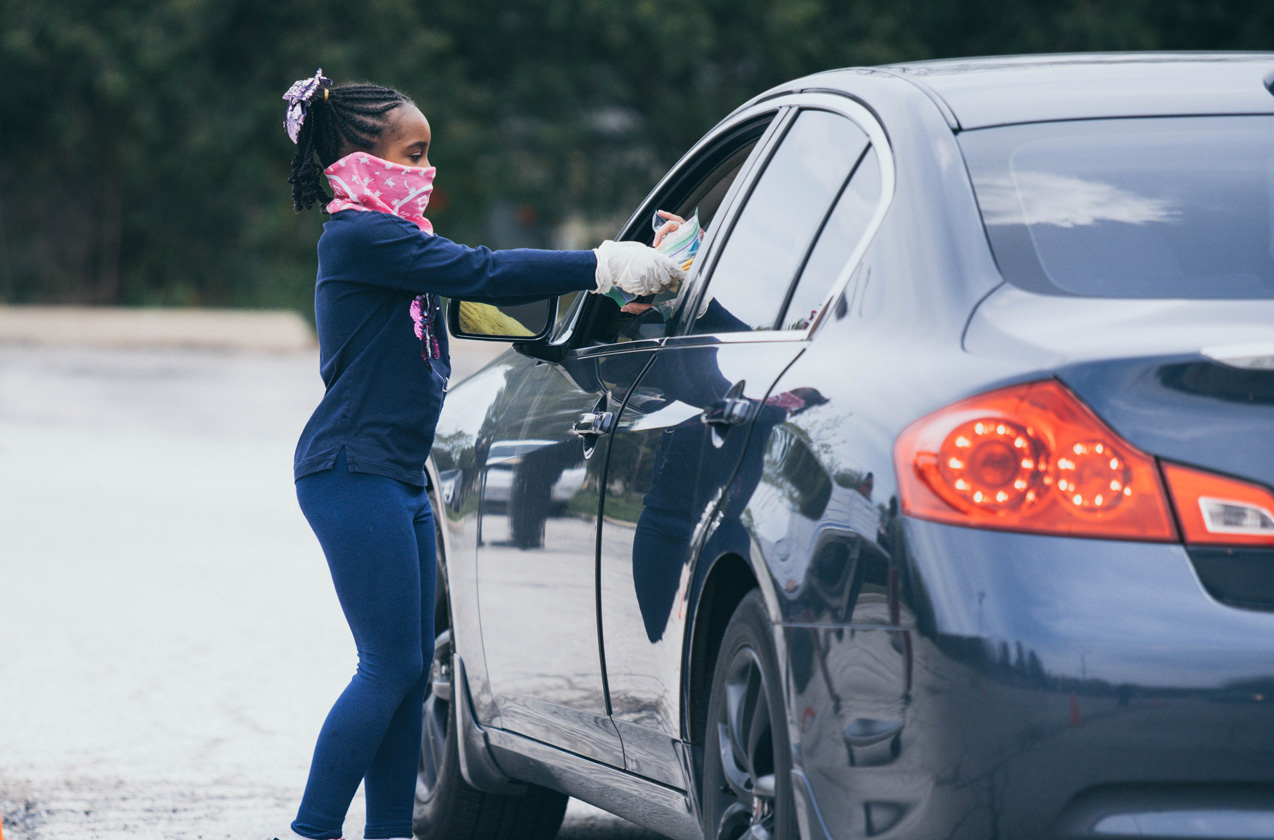 Her involvement with The Salvation Army was what some might call serendipitous. Living in the same neighborhood as Captains Caleb and Stephanie Senn, Oakbrook Terrace, Ill., corps officers, she mistakenly ended up on their doorstep with her dad when they were trying to deliver a package. Immediately recognizing her from the neighborhood's Facebook page, Captain Stephanie was delighted and said, "Actually I was going to contact you."
She told the Tylers about the corps' Rescue Food Program, how the need had skyrocketed and people were asking for masks but the corps had none to give. She wondered if Olivia might be interested in distributing her masks at their daily drive-through pantry.
Later that week Olivia visited the corps and handed out 250 free face masks along with the food being distributed. She has already donated several hundred masks to other area shelters and has applied to become a nonprofit organization called Olivia Dru Cares (Dru is her middle name).
"Keep believing, and keep being kind," Olivia encouraged others. "All people can help. Even people who might be younger than me."
Living large on less
by Craig Dirkes
Elaine Foote-Blum could have spent her $1,200 government stimulus check on plenty of things. Instead, she donated the money to The Salvation Army.
Elaine is a widow and retired pastor who lives in Pine River, Minn. She attends and volunteers at the  Brainerd Lakes, Minn., Corps, led by Captains Jeff and Joyce Curran, where she has seen firsthand how The Salvation Army has been providing food and support for countless people in need during the crisis.
"Coronavirus is a matter of life and death for some people," Elaine said. "I can't be a nurse, and I can't be a doctor. But donating is something I can do."
Not too long ago, Elaine had no money to donate to anyone. She'd struggled with debt her entire life, but in 2015 she took control of her finances with help from budgeting programs and support groups. "Before that, I had no savings. I was in so much debt that I couldn't even afford to pay my taxes…God, in His perfect timing, got me to this point where I could let go of $1,200," said Elaine, who hopes that by sharing her story others will be inspired to give freely.