Territorial Commander Commissioner Brad Bailey has announced the following changes in leadership which will take place on June 27, 2018.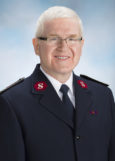 Lt. Colonel Paul Smith will assume the role of Assistant Chief Secretary.
Majors Philip and Deslea Maxwell will become Territorial Secretary for Program and Assistant Territorial Secretary for Program, respectively, with the rank of Lt. Colonel.

Majors Dave and Darlene Harvey will become Divisional Commander and Divisional Director of Women's Ministries, respectively, for the Kansas and Western Missouri Division.