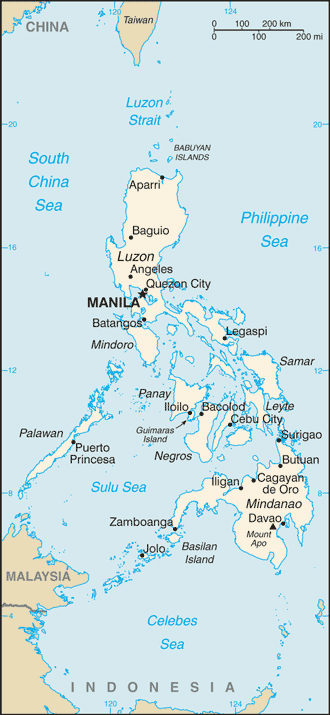 The work of The Salvation Army was initiated in the Philippines at the invitation of Filipinos who'd become Salvationists in Hawaii, returned to their homeland and began holding meetings (starting in 1933) in Panay, Luzon, Cebu and Mindano. Five years later, Colonel and Mrs. Alfred Lindvall arrived to officially inaugurate the work in this Southeast Asian archipelago of 7,107 islands with a land mass slightly larger than Arizona and a population of nearly 101 million.
With the continuing recovery work throughout the nation following the devastation of Typhoon Haiyan in late 2013, Salvationists have been providing countless supplies and services through its recovery and rehabilitation programs for survivors in addition to its already expansive offering of social services, including schools, children's homes, feeding programs, anti-human trafficking ministries and employment programs.
The Salvation Army in Tagalog is Hukbo ng Kaligtasan. Languages in which the gospel is preached include Tagalog and English (the country's two official languages), Antiqueño, Bagabo, Bicolano, Cebuano, Hiligaynon, Ilocano, Korean, Pangasinan, T'boli and Waray. Nearly 83 percent of the country's population is Roman Catholic, almost 10 percent is Protestant and five percent are Muslim.
Source: The Salvation Army Year Book; CIA World Fact Book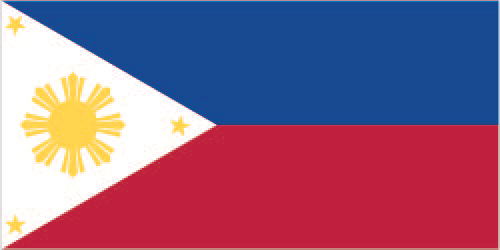 The Philippines flag, the design of which dates back to 1897, features horizontal bands of blue (representing peace and justice) and red (symbolizing courage) with a white equilateral triangle (for equality) on the hoist side. In the center of the triangle is a yellow sun with eight primary rays representing the first eight provinces that sought independence from Spain, and each corner of the triangle contains a small, yellow, five-pointed star representing the major geographical divisions of the country: Luzon, Visayas and Mindano. In wartime the flag is flown upside down with the red band at the top.