by Kristin Pike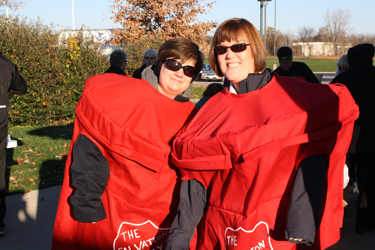 Early this November we held our annual Red Kettle Run 5K. It was a great day: clear, crisp and perfect for running. On top of beautiful weather, we had a wonderful crowd of volunteers and runners ages 7 up to 77.
Most everyone had a job to do and worked together to make the event a success. Dressed as Salvation Army kettles, Captain Janelle Cleaveland, Des Moines Temple, Iowa, corps officer, and Lt. Pam Kasten, Boone, Iowa, corps officer, cheered on crowds; Major Jim Beardsley, Des Moines area coordinator, kicked off the Tot Trot, and advisory board members did everything from set-up to participation in the race.
Local sponsors came through with food for the volunteers, water for the runners and some great raffle prizes. Our runners ran a good race, and the little ones bounded through the Tot Trot. Our Divisional Commander, Major Greg Thompson, even joined in and ran.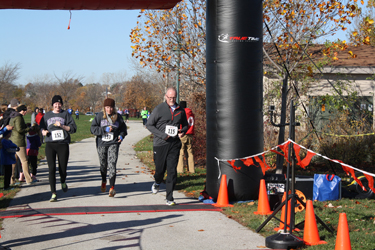 "The community came together in an exciting way to support the Army and its efforts to help those in need," said Major Greg Thompson, Western divisional commander. "To me it was seeing the excitement about a healthy lifestyle in support of providing healthy living for the less fortunate in the communities that made this year a success!"
He continued, "I enjoyed having the opportunity to support the fundraising efforts in such a practical way and surprised myself as I competed against my own time for finishing the 5K."
It was a great kick-off to our kettle season, and we're already looking forward to next year.