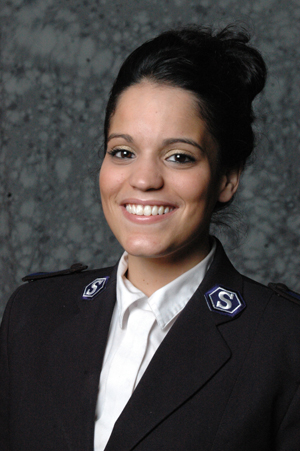 CAST (Creative Arts Service Team) leader, Cadet Veronica Citron, shares about her passion for drama, and how much she is looking forward to participating on the territory's first CAST summer mission team.
What makes you a good fit for this new team?
Well, I'm certainly no Meryl Streep, but I do have a passion for drama and the theatre, especially when it's to be used in ministry. I have a bachelor's degree in drama and education and worked many theatrical productions in college. My goal was never to become an actor on Broadway.  I wanted to learn how to incorporate drama and theatre in the classroom because I believe it is a powerful tool for connecting students with content. This will be my third time on a summer mission team (SMT). Last year I was the team leader for team Hungary, and in 2012 I was part of the team traveling to Jamaica and Guyana.
What will be your role as team leader, and how will it differ from a traditional team leader?
As the CAST team leader, I will still hold many of the same responsibilities as a traditional SMT leader such as providing leadership opportunities for each team member, addressing the spiritual needs of each individual and working side-by-side with the rest of my team. One major difference with CAST is in addition to team responsibilities, we also have production responsibilities. My role will be similar to the role of a "director" in which I will help guide the team and bring together all the parts of each production. By June 1, every team member will have lines memorized for two shows and will spend over a week rehearsing under the direction of Joe Caddy and Marty Thomas, territorial music and gospel arts department staff members.
This is a unique ministry—what are you looking forward to the most?
This is definitely a unique ministry opportunity. As a first year cadet, I assumed my summer assignment would be spent at a corps. Instead, I will be traveling around the territory with a wonderful team sharing the gospel through drama. I'm still in shock about being given this unique opportunity and am excited to see how God will use my team and the people we meet to help me grow as a leader and as a servant of God.
How do you hope to impact people through CAST?
Along with performing, the team will lead workshops and teach different elements of drama. When I taught in the classroom, I was able to see how effective drama is for teaching, and I know it can be just as effective in ministry. When teaching, especially children, about God and His Word, we should think outside the box to help people understand the gospel in new ways. I also hope we serve as an encouragement for those who may have a passion for theatre, but haven't known how to incorporate it into their ministry. Finally, I hope to be a witness of the love of Jesus Christ through my interactions with my team members and the people we meet.