by Captain Heidi Reed, Wyandotte Downriver, Mich., corps officer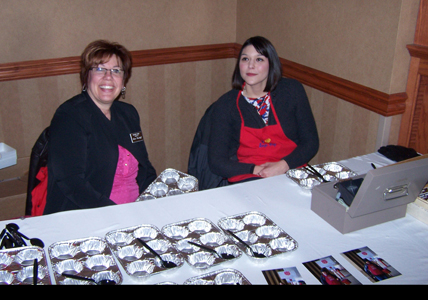 When my husband and I moved to our current appointment less than two years ago, we discovered we were blessed to inherit a very successful fundraiser—Downriver Soup Day.  Over the last 21 years, the community has come to love and support this fundraiser to benefit The Salvation Army's food pantry.
Although the groundwork for our soup day was laid, I'd like to share a few suggestions to help those interested in starting a similar fundraiser.
Get your Advisory Board/Council active in the process and excited about the possibilities. They know the community and can help make contacts.
Find a venue. Consider how many people you hope will attend and allow room for growth.  Check out hotels with large conference areas (our soup day takes place at the Holiday Inn's ballrooms), banquet halls or other businesses with enough room to accommodate a large crowd.  See if the venue is willing to provide the space pro bono. Don't forget the venue can benefit from the publicity. Take into account set-up and clean-up.  Our Holiday Inn provides the space, set-up, supplies (tablecloths, sampler cups, spoon, water, tables and chairs), and clean-up at no cost.
Find sponsors. You will especially need this if the venue charges you.  Our sponsors are the Holiday Inn and our local newspaper.
Pick a date that works for you and the venue taking into consideration what else is going on in the community to avoid conflicts with other events. We hold ours at the same time every year—the last Wednesday of February between 11:00 a.m. and 1:00 p.m.
Contact businesses to provide the soup. We found it best to send a letter first and then follow up in person. This is where the advisory board can be very helpful. Don't limit yourselves to just restaurants; you can contact nursing homes, schools with cooking classes or hospital cafeterias, just to name a few.
Advertise, Advertise, Advertise. It's important to get the word out. Work with your divisional headquarters public relations and local newspaper.
Secure volunteers to help.
Secure supplies. We only have to supply the muffin tins; the Holiday Inn supplies the rest. Be sure there are enough spoons and sampler cups. Our local newspaper passed and tallied our ballots so participants could vote on the best soup, most unusual soup and best display. The winners are published the next day.
Educate the community about The Salvation Army. Let them know what the money is going for. Have brochures, signs, pictures, etc.
Follow up. Be sure to thank each volunteer and business and encourage participation for the next year.