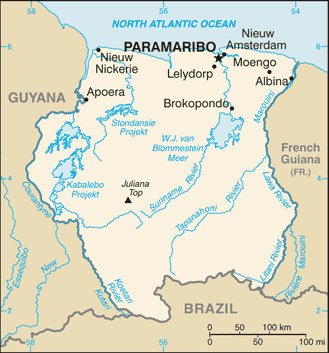 The work of Leger des Heils in Suriname began in 1924. Although English is widely spoken, Dutch is the official language of the former colony, which was granted independence in 1975 after 308 years of Dutch rule. Other languages in which the gospel is preached include Surinanmese, Caribbean Hindustani and Javanese.
Headquartered in the capital city of Paramaribo, the Suriname Region of The Salvation Army is part of its Caribbean Territory, which is comprised of 16 countries and headquartered in Jamaica.
Salvation Army ministries within the region include a children's home, two residences accommodating 37 senior women, a men's night shelter that sleeps 70, plus prison, probation and correctional aftercare ministries.
Suriname is located on the northern coast of South America between French Guiana and Guyana. The majority of its 577,300 population lives near the ocean; the rest of the country, which is about the size of Georgia, is mostly tropical rain forest. More than 27 percent of Suriname's population is Hindi, followed by 25 percent Protestant, 23 percent Roman Catholic and 19 percent Muslim, with the rest following indigenous beliefs.
The country's economy has been dominated for many years by the mining industry (alumina, gold and oil), making it highly vulnerable to market price volatility. The descendants of East Indian immigrant workers account for 37 percent of the population, followed by Creole (31 percent), Javanese (15 percent) and African (10 percent). Indigenous Amerindian, Chinese and European descendants (two percent each) account for the rest. The country is a source, destination and transit country for sex trafficking and forced labor of women, children and men. It's also a growing transshipment point for drugs destined for Europe and arms-for-drugs dealing.
Sources: The Salvation Army Year Book; CIA World Fact Book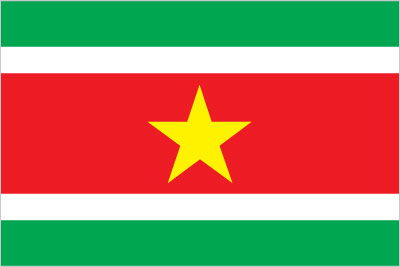 The five horizontal bands represent hope and fertility (green); peace, justice and freedom (white), and progress and love (red). The large, five-pointed yellow star represents the unity of all ethnic groups and the light from which the nation draws strength to bear sacrifices patiently while working toward a golden future.