Lt. Colonel Helen Purviance: The Salvation Army's Iconic Donut Girl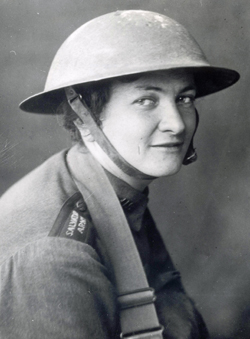 Photo credit: Territorial Historical museum 
The Salvation Army's association with the humble donut began almost a century ago when a young woman from Huntington, Ind., figured out how to make the deep-fried treats from the scant supplies available in the front-line trenches of France during World War I.
Born in 1889, Helen was enrolled as a soldier (member) at the Huntington, Ind., Corps (church) in 1906. A year later she entered the Salvation Army's officer training college (seminary) in New York, N.Y., and was ordained and commissioned as a Salvation Army officer (minister) with the rank of lieutenant in 1908. After several years of service in corps, she was promoted to the rank of ensign just before she left for France to support U.S. military troops serving there.
Salvation Army canteen huts were set up at various points spots along the front lines to offer not only free coffee and spiritual support but clothes-mending services, notions and stationery, concerts and, when rations allowed, pies or other baked goods.
When supplies got low, that's when Ensign Helen put her Hoosier ingenuity to work, devising a recipe using whatever was at hand. With the help of fellow officer Ensign Margaret Sheldon, she patted the dough flat by hand, cut it into strips and twisted each into a circle before dropping them into the hot oil.
Working at a short pot-bellied stove fueled by a wood fire, Lt. Colonel Helen said, "I was literally on my knees when those first donuts were fried, seven at a time, in a small pan. There was a prayer in my heart that somehow this home touch would do more for those who ate the donuts than satisfy a physical hunger."
The luscious fragrance of fried dough drew the homesick soldiers to the hut, where they lined up in the rain to wait for a taste.
Working late into the night, the women could only produce 150 donuts that first day. But, after discovering an old wine bottle made a perfect rolling pin and that empty cans of condensed milk worked well as cutters (with a percolator top to punch out the hole), the women produced double the number of donuts the next day. In time when fully equipped to do the job, the women fried anywhere from 2,500 to 9,000 donuts each day, as did the women working in other canteens along the front lines.
Letters back home sang the praises of The Salvation Army "doughnut girls," and war correspondents echoed their admiration of the "lassies" who were unvarying cheerful, helpful and ready to serve, sharing primitive living conditions and danger with their "doughboys."
Adapted from archival manuscripts courtesy of the Central Territory Historical Museum.