The Salvation Army in Trinidad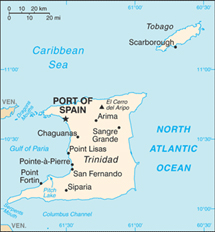 The work of The Salvation Army began in Trinidad in 1901, 14 years after the Army "opened fire" in Jamaica. Trinidad and its small neighbor island compose the Republic of Trinidad and Tobago, one of the 16 countries in the Caribbean Territory.
The Salvation Army Trinidad and Tobago Division is headquartered in the capital city, Port-of-Spain, Trinidad. In fact the Port-of-Spain Corps recently celebrated 100 years in its building. A children's daycare center, three primary schools, two hostels for women and a home for the elderly are among the social services provided by the division.
Located near the Venezuelan coast, the country is populated by more than 1.2 million people of whom more than 32 percent are Protestant, followed by Roman Catholic (21 percent) and Hindu (18 percent). The dominant ethnicities are East Indian (35 percent) and African (34 percent).
The country attracts considerable foreign investment and has one of the highest per capita incomes in Latin America. It's a regional financial center and continued growth is projected for information and communications technology, tourism, agriculture and shipping. However, the country also is a destination and transit point for South American drugs, as well as forced-labor and sex trafficking of adults and children.
Source: The Salvation Army 2014 Year Book; The World Factbook (Central Intelligence Agency)