God's Guiding Hand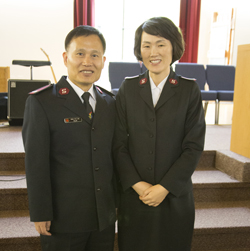 Majors Bong-Kyu Lee and Eun-Sill Seo, officers (pastors) in the Salvation Army's Korea Territory, are halfway through a two-year commitment to serve in the USA Central Territory (the Midwest). Major Bong-kyu is teaching at the College for Officer Training (seminary) in Chicago, Ill., while pursuing post-doctorate studies at Trinity International University, and Major Eun-Sill is the associate corps officer at the Chicago Mayfair Community Church Corps. The journey of their lives demonstrates the touch of God's guiding hand on those who seek Him.
Born in 1961, Bong-Kyu learned about Jesus when he was invited as a child to attend the Salvation Army corps (church) in his village. As the first Christian in his family of nine, Bong-Kyu was happy to report his mother became a Salvationist (member) and his father came to know Christ before he died.
Bong-Kyu came to a deeper understanding of his faith during his university years through the international ministry of Campus Crusade for Christ. He pursued a career in law, but his studies became disrupted by chronic headaches that started after Bong-Kyu accidentally inhaled lighter-fluid fumes while trying to light charcoal. As Bong-Kyu prayed for healing, a richer relationship with God ensued.
God's initial call on Bong-Kyu's life was to be a pastor. When he eventually returned to his home village, he ministered at the corps for a few years. The corps officers encouraged him to consider Salvation Army officership.
But, Bong-kyu hadn't met Eun-Sill yet.
A third-generation Salvationist, Eun-Sill was born in 1970 to parents who instilled in their children a love for God's Word and prayer. In fact, one of Eun-Sill's two younger brothers also became a Salvation Army officer.
"My mother has been the role model for my life," said Eun-Sill. "Her deep faith has been such a blessing to me, and she loved the Army so much she'd only marry another Salvationist!"
Eun-Sill was always happy to be at the corps. As a child she often accompanied her devout mother to early-morning prayer meetings. Even as a teenager, Eun-Sill would often stay at the corps until midnight to pray with her friends. Her corps officers encouraged her to consider officership, but she rejected the idea until God clearly spoke to her one day during prayer, "Be holy as I am holy."
But, Eun-Sill hadn't met Bong-Kyu yet.
They first met at the corps in 1987 when Eun-Sill was a student in a class Bong-kyu was teaching. They married six years later and entered training the following year.
Commissioned in 1996 as members of the "Messengers of the Truth" session, they've led three corps, opening one of them, and had been serving at the Korea Territory's Officer Training College for nearly eight years before coming to the U.S. last year.
When the majors return to Korea with their two children, son Sun-Jong, 16, and daughter Ye-Won, 10, Major Bong-Kyu will be instrumental in launching a master's degree divinity program at the training college.