by Major Heather Holman, Waukegan Citadel, Ill., Corps Officer
Nora (left) was presented with an award for her leadership.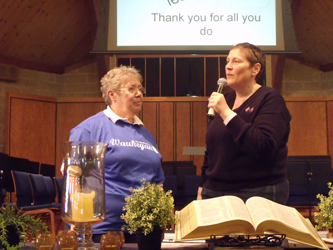 When it comes to her sunbeams, Nora Boeck's highest priority is seeing girls grow in their walk with the Lord. For instance, recently she comforted one of her sunbeams who was struggling with nightmares and encouraged her to pray every night before going to sleep. She shared with her the power prayer has for those who believe. Later her sunbeam shared with me how Miss Nora had taught her to pray and depend on God when she felt afraid. Because this young girl experienced God's faithfulness, she continues to pray each night before going to sleep.
Our corps' children respect Nora's teaching and admire her character. Most weeks they go home with special handmade crafts and treats. Her cheeseburger cookies are particularly popular with kids and adults alike; they fly off the plate!
Outside of sunbeam activities Nora makes time to meet with each of her girls and their families and hosts many special activities. She has organized field trips to Chicago museums, arranged sleep-over parties, hosted crafts and created fun baking activities—just to name a few!
Nora exceeds our expectations. In addition to sunbeams, she leads our popular women's ministries group, teaches our vacation Bible school and our junior soldier classes, and helps cook and serve our advisory board lunches.
Nora is rarely seen without a pair of knitting needles or crochet hook. Her gift of creating beautiful blankets, baby clothes and hats, scarves and mittens for others is yet another way she shares her love for Christ.