by Captain Catherine Mount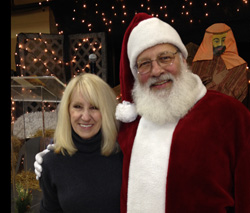 The next opportunity to connect with The Salvation Army could be moments away, as it was for Royal Oak Citadel, Mich., Women's Auxiliary President Karen Lhyle. Her chance encounter came eight years ago while she was gardening in her front yard.  June McGregor, Royal Oak Women's Auxiliary founder, was walking her dog in the neighborhood, noticed Karen and they started a conversation. June invited Karen to consider joining the auxiliary as a new member right there.
Although the timing wasn't just right, Karen's curiosity was piqued. Following her retirement as an elementary school teacher a year later, a knock came on Karen's front door. It was June asking again about joining the women's auxiliary, and this time Karen agreed to check it out. After her first meeting she was sure; even though it was a leap of faith since her only acquaintance in the women's auxiliary was June.
Karen couldn't have known then the difference The Salvation Army would make in her life or the impact she would have on others. Since that first meeting, Karen has volunteered hundreds of hours and given full support in an array of outreaches in southeast Oakland County.
Karen said a highlight of her auxiliary work is "being with a group of women who are fundamentally committed to helping others." Karen has served as president of the women's auxiliary for the last three years and is motivated by a natural instinct to give back to her community. She fulfilled that need for 35 years as a teacher and now in the women's auxiliary.