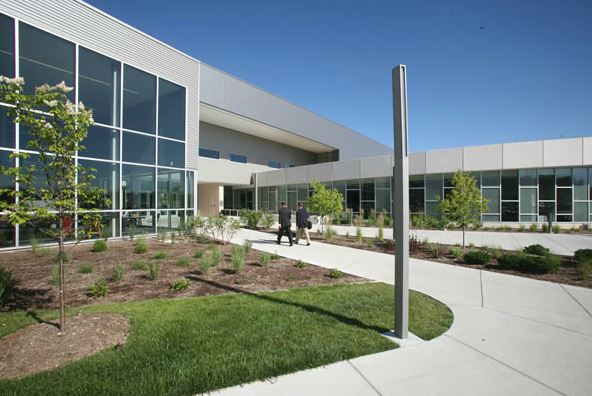 Three years since the Omaha, Neb., Salvation Army Ray and Joan Kroc Corps Community Center opened, it's become an inspiring focal point for thousands of residents. The Omaha Kroc Center is living proof God still transforms lives. Our purpose statement says it best: At The Salvation Army Kroc Center, people are inspired to discover their God-given talents and develop their potential through artistic, educational, physical and spiritual experiences.
The Omaha Kroc Center was well received the first year with soccer programs, men's basketball and Zumba® gaining immediate popularity, and it was host to dozens of rental clients each month, many of whom continue to return year after year. One of the first challenges was to inspire our community to discover new opportunities.
The aquatics area was one of the most requested and anticipated by the community. Though recreational swim has been popular, initial usage did not meet the expressed excitement from community members. We discovered a hesitancy to embrace water recreation, as reflected in research from the U.S.A. Swimming Foundation which says 60-70 percent of African-American and Hispanic children and 40 percent of Caucasian children don't know how to swim. (usaswimming.org)
The Kroc Center quickly recognized the necessity of building comfort and excitement about water recreation, and through events like a visit from African-American Olympic gold medalist swimmer Cullen Jones and partnerships with organizations such as the U.S.A. Swimming Foundation, Make A Splash and Float for Life, we set out to improve swimming skills and comfort with water recreation. Since then we have provided swim lessons and structured programming for more than 3,500 children and adults through partnerships with Completely Kids, Omaha Public Schools, and many others. Today, usage of the aquatics area is increasing weekly and most swim lessons fill to capacity.

Throughout the three years the center has been operational, it has been finding its identity, who we are in the community and what needs we serve. Community partnerships have been key. At the very start the Omaha Kroc Center had partners like ConAgra, Omaha Public Schools, Metro Community College, the University of Nebraska and HyVee, which saw the benefits and value of the center and offered support.
As more organizations have come to understand the Kroc Center's mission, support has grown, such as our partnership with the Omaha Conservatory of Music (OCM). The partnership with OCM has resulted in free or low cost music lessons to children, ages 3-12, and performances at community concerts to maximum capacity audiences. The Kroc Center provides the rooms and students, while OCM provides the teachers and instruction in brass, keyboard, percussion, violin and cello. Although students are asked to provide their own instruments, those who cannot afford them have been able to participate with loaned instruments which have been generously donated.
Another solid partnership has been with the Children's Hospital & Medical Center HEROES program. The program addresses childhood obesity through Healthy Eating with Resources, Options and Everyday Strategies (HEROES), a medical-directed, multi-disciplinary program. The HEROES program uses the Kroc Center for meetings and classes and works in tandem with our Healthy Home Program which focuses on the entire family together eating better and exercising to improve health and happiness.
Due to the success of these and other partnerships, the Omaha Kroc Center has begun to develop a sustainable plan for accommodating community partners' requests and creating unique opportunities for members and guests. We are continually looking for new ways to provide access to high quality programs and a world-class community center that fulfills both Joan Kroc's vision and William Booth's mission.
The Omaha Kroc Center is currently led by Majors Todd and Catherine Thielke and Lts. John and Judith Fetzer.